In this day and age of modern and lightweight gear, 4X4 trucks and sport utility vehicles, it's important to remember that mountaineering used to be much more of an arduous pursuit. The approaches were lengthy and required far more time and commitment, as there were few mining and logging roads. The chances for rescue were often slim to none, if an accident occurred. In part because the access we enjoyed on this particular excursion was relatively easy, I feel compelled to dedicate this story to the mountaineers of yesteryear. Like Tom Fyles, pictured below, they fought the harder and lonelier battles of earlier exploration, and I raise a glass to them all, as you should, too!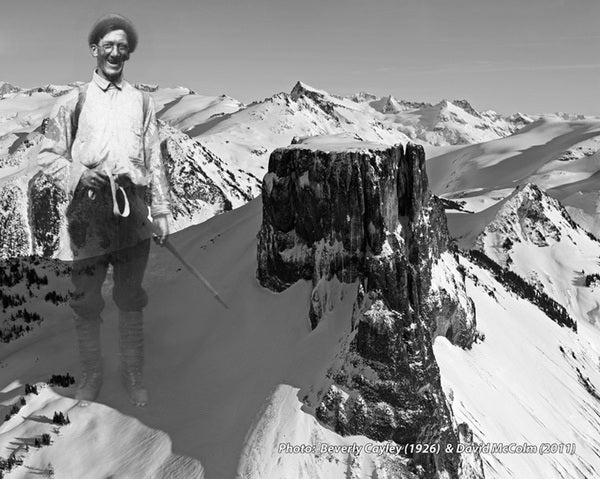 I do, however, have a story or two to tell, so let's get on with that…
It was a perfect September afternoon, the kind most hikers dream about. The wheels of Denis's Toyota pickup rocked back and forth, and side to side as we steadily made our way up to Blowdown Pass. This valley, perched on the boundary of Stein Valley N'Laka Pamux Provincial Park, is a genuine Coast Mountain paradise, home to rugged peaks, and spectacular floral displays. It's also one of the strongholds of southwestern British Columbia's remaining grizzly bear population, and a place whose name is closely associated with some unique historical lore, but more on that just a little later. The upper section of the Blowdown Creek Road certainly required some very skilful driving, but fortunately, Denis was more than up to the task!
The three of us arrived atop the Blowdown Pass in the evening, but we were surprised to notice we'd still have the time to climb Gotcha Peak before the sun was to set. We quickly decided that rather than setting up camp right away, we'd take to the mountain instead. We only needed to gain somewhat less than four hundred metres in elevation to the summit, which we managed easily in about forty five leisurely minutes! Doug led the way with Denis following, while I tarried behind taking far too many photos.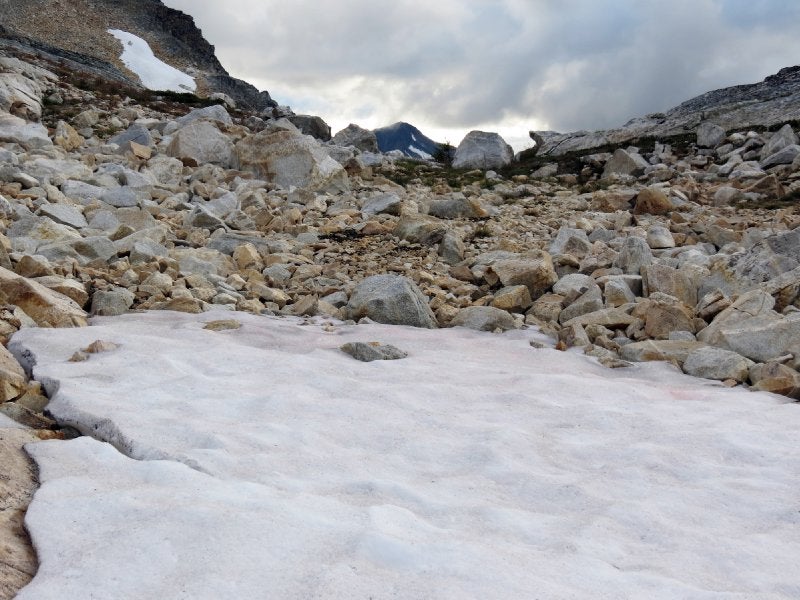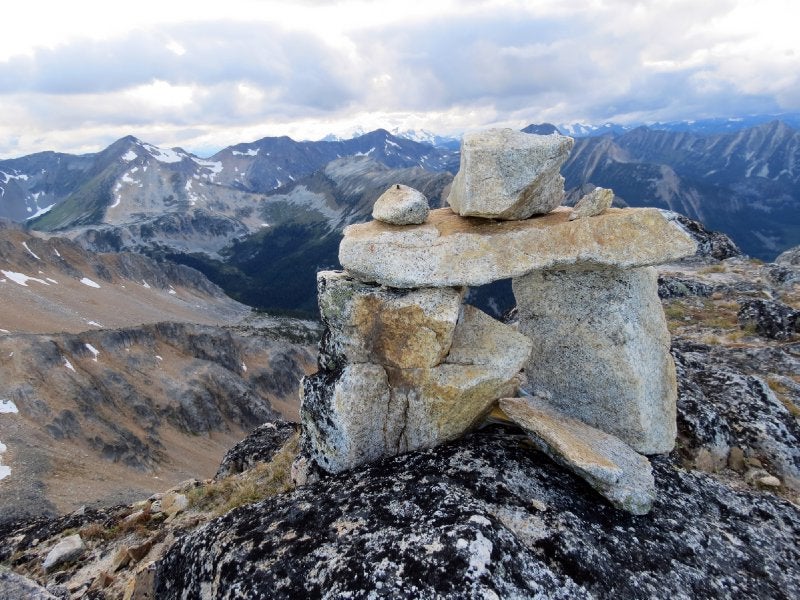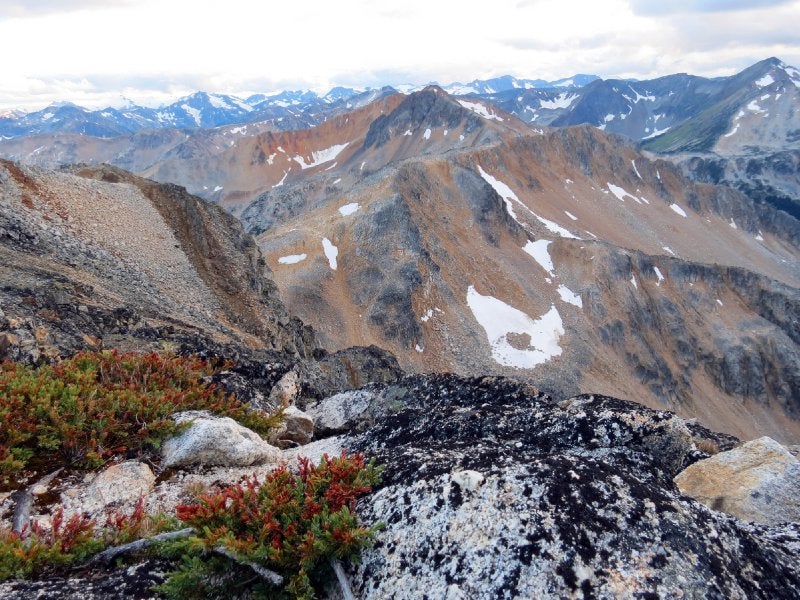 We spent only a scant five minutes on the summit before hiking back down, as there was beer for us to drink and a tent for Doug and me to pitch, after all. Besides, Denis abhors excess summit loitering at the best of times! The trip back to the pass took us just twenty minutes or so, and was only delayed by more of my camera shenanigans!
After we climbed Gotcha Peak, Denis set up camp in his trusty Toyota, while I helped Doug pitch his MEC Wanderer car camping tent which we have dubbed "The Hoser Hilton". What with our somewhat icy tenting experience on the Black Tusk recently all too fresh in our minds, this time we were really loaded for bear! We had down sleeping bags, full sized pillows, and countless layers of clothing. We even brought camp chairs and firewood! A fire pit was built, stories were told, many beers were drank, and chips were crunched as the cold night air settled in the pass. Myriad topics were discussed around the campfire, chief among those the upcoming NFL season- we are all Seattle Seahawk fans- and the crazy characters of the old Clubtread hiking website over the years, the latter enough to fill the pages of a epic novel! Tales of adventure were many, to say the least. Sometimes you don't realize all the things you've done over the years because you're often so focused on the next excursion!
A blue moon would rise later that night, but beforehand, its glow illuminated the skies above the 2360m summit behind camp, which I was already scheming to climb before breakfast the next morning. These were good times, with great company, in one of those special places that defy normal description; Blowdown Pass is a location you almost appreciate more after you have left it than when you were actually there!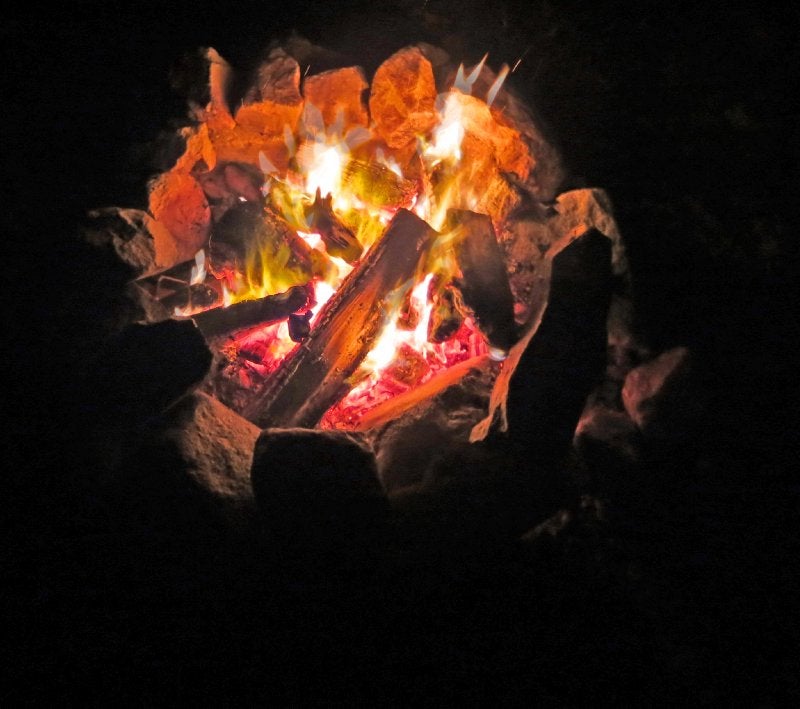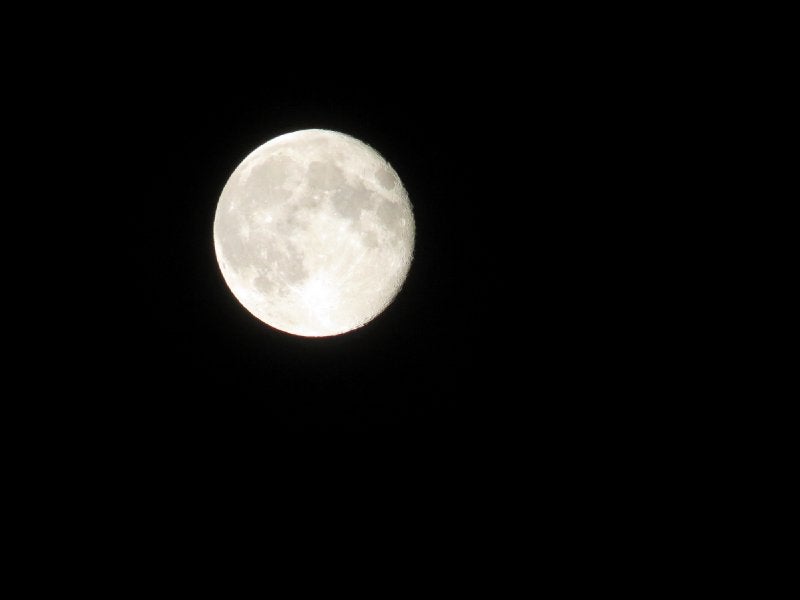 As easy as this climb was for us, the man for whom this valley was named lived a decidedly rougher and more challenging life. His story, which I will relate here, was one of considerable struggle in a very different era.
The Gott Creek Valley (and Gott Peak), also once the site of lucrative mining interests, takes the name of local guide, trapper, and legend Francis "Frank" Gott. He was the subject of a manhunt in the Lillooet area after the shooting of local game warden Albert "Bert"Farey in 1932, by most accounts, but the story is actually much more nuanced than some folks would have you believe. You see, Mr Gott was of native heritage, and the man who sought to arrest him was following a provincial law which for decades had given no proper respect to the fact that the St'át'imc people had hunted animals for sustenance long before colonial powers had arrived in British Columbia.
The news of his day more or less tells us that the authorities were angered by "out of season hunting", so they had enacted the Protection Game Act of 1905 to basically force people to comply with their new rules. They were also known to specifically target indigenous people most frequently, and this harassment no doubt engendered further hostilities. In addition, the law was also trying to prohibit the sale of alcohol to "Indians", and would often prosecute First Nations people who were caught either consuming liquor or providing it for others. That, essentially, was a further violation of their rights. (Gott also served a six month jail term for the latter offence.)
The warden, Bert Farey, and Frank Gott had originally been feuding for several years, after he had fined Gott previously for hunting a deer illegally. That feud finally came to a head in 1932, when Gott shot Carey and killed him after an altercation ensued over yet another deer carcass. Gott, then distressed, left a note professing his intent to commit suicide, and subsequently a posse was raised to hunt him down. He was found, shot several times as he fled, and eventually captured, but he never stood trial as he later perished from his injuries in 1932 at the age of 76.
It is considerably sad that these events ever came to pass, truthfully. Gott was revered for his skills as a woodsman and guide, and was also considered a fine man by those who knew him. After all, at the age of 62, he had disguised himself and even dyed his hair to appear younger just so he could fight for Canada in World War I. (The maximum age for enlistment was 47!) He served the country well, but once authorities discovered his age he was discharged in 1917, returning to his Lillooet area home with both the British War Medal and the Victory Medal. Among the people of the St'át'imc Nation, Frank Gott is considered a hero, and I quite frankly agree with that in many ways. While it's true he almost certainly shot Farey and killed him, he was also being forced to follow unjust laws and he was subject to the many other abuses native Canadians faced on their own ancestral lands. Gott's story, and that of game warden Bert Farey, who was also both a decent man and a decorated World War I veteran, are needlessly tragic. If nothing else, they were and are glaring examples of the mistakes and oppression of colonialism. Even today, there are plenty of reparations to be made between First Nations people and Canada. It is my sincere hope that things continue to improve. For more about the St'át'imc Nation history, read here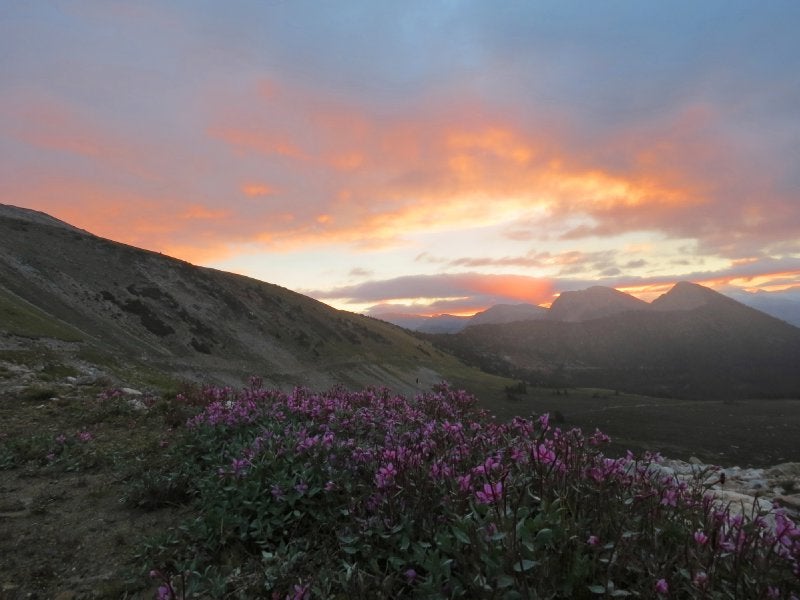 I was up at the break of dawn the next day, as I always am in the mountains, and so set off alone to enjoy the sunrise before breakfast. A golden glow illuminated the Cottonwood Valley beyond the pass as bright orange skies ushered in the day above Siwhe, Evenglow Mountains, and the Stein Valley beyond. I scrambled up the northeast ridge of that summit behind camp, hands in pockets, with snow falling faintly, until a steep frost covered section and a pair of gullies demanded closer attention. Caution was needed there as a little Class 3 scrambling complicated by slick, loose, rock led me to the summit, where I gazed out on the panoramic views over the Stein Divide. That done, it was time to head back to camp for coffee and oatmeal – two things that Doug makes better on on camping trips than anyone else I know! Rather than descend all the loose rock covered with a glaze of frost and traces of fresh snow, I instead descended the west face toward Gotcha Peak on larger granite blocks before angling down toward camp, as the rock there was somewhat drier.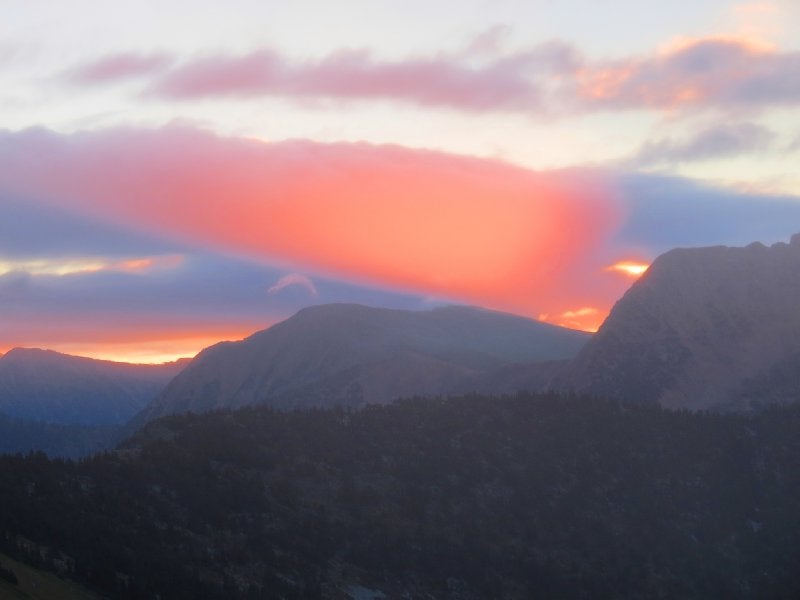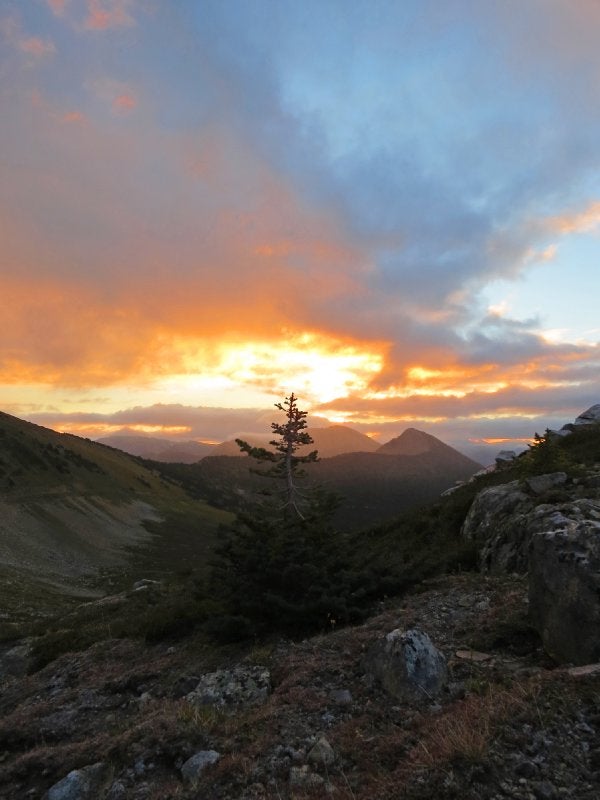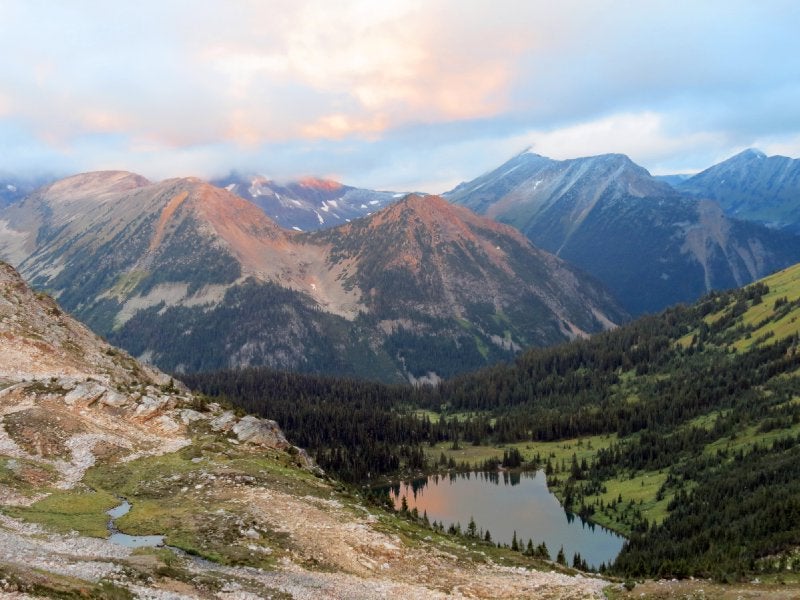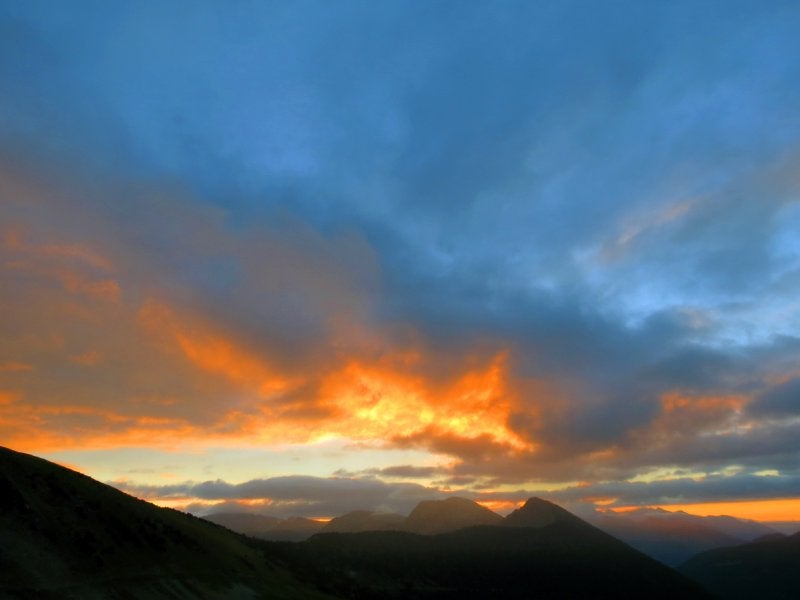 I soon returned to camp just as Doug had the coffee ready. We all had our fill of breakfast and the jokes flowed freely as we geared up to tackle Gott Peak. As the valley began to warm, we followed the intermittent trail up the west ridge. The track first winds its way up heather and krummholz laden slopes into the alpine tundra above. Eventually, it passes a small bump on the rolling ridge before making its way to the summit proper of Gott Peak. The clouds were ever present, actively moving about in an effort to block the sun, sometimes successful, sometimes not. No need to rope up for this one, folks! It's just a question of putting one foot in front of the other and following the obvious route till you reach the final cairn, so that's what we did. Views from the 2511 metre summit and on the ridge walk were sublime, especially those of the Gott Creek Valley, stretched well out before us, and of Blowdown Lake, far below in its secluded bowl. On the way back Doug took the lead and tried to save us some elevation gain by leading us on a traverse below the ridge crest, which was an interesting diversion. The entire trek to Gott took maybe about a couple of hours with considerable kibitzing along the way, and soon after we were packing up for the drive down.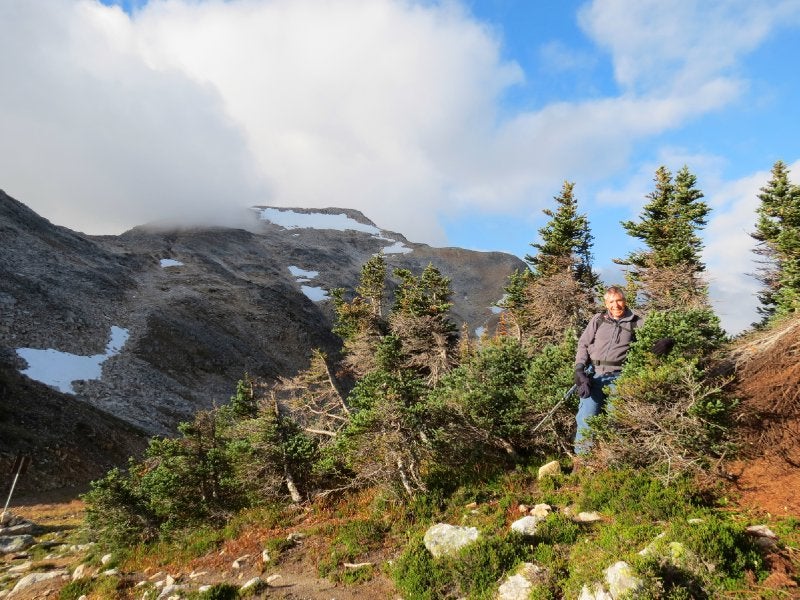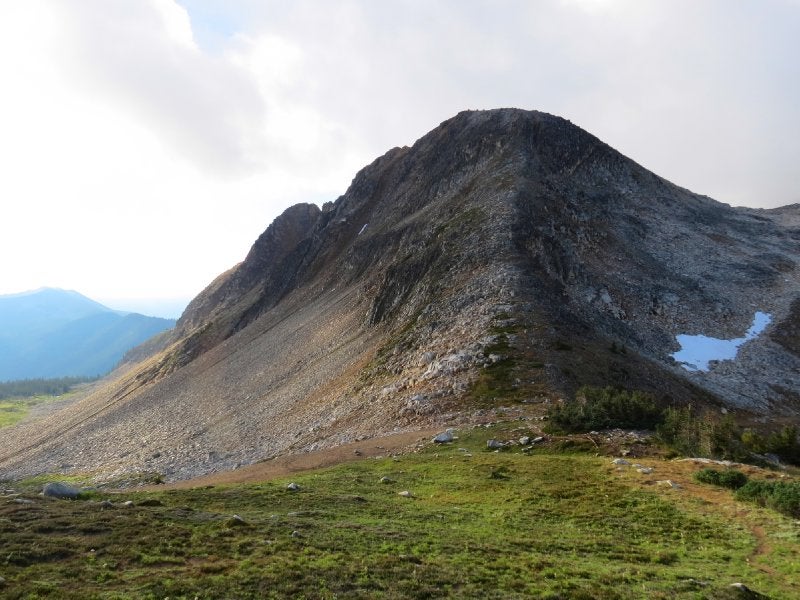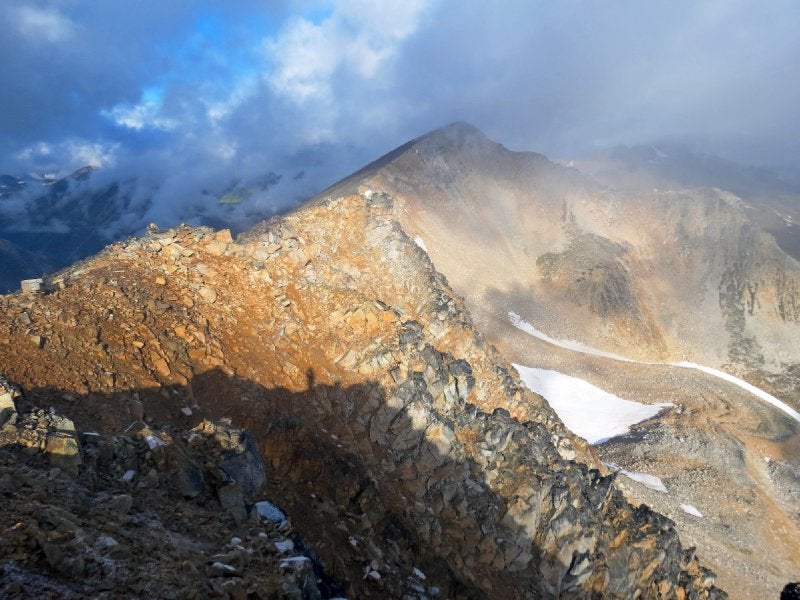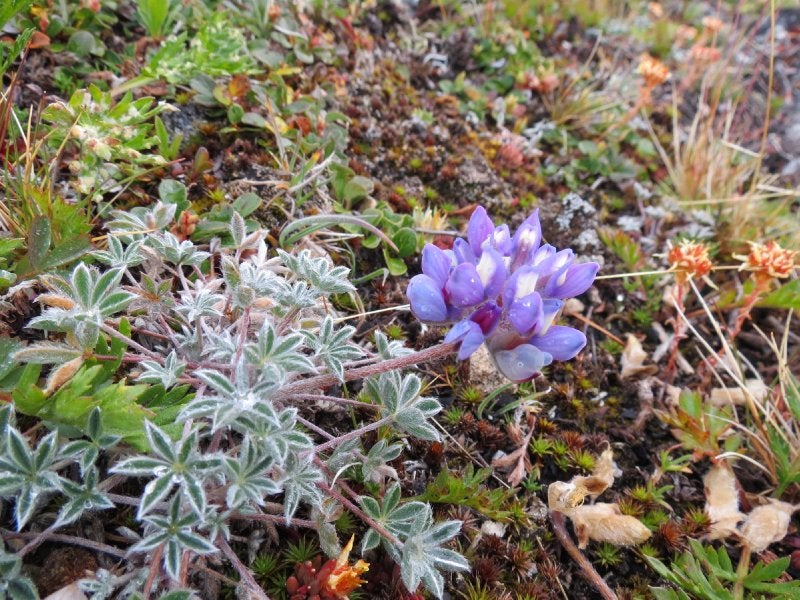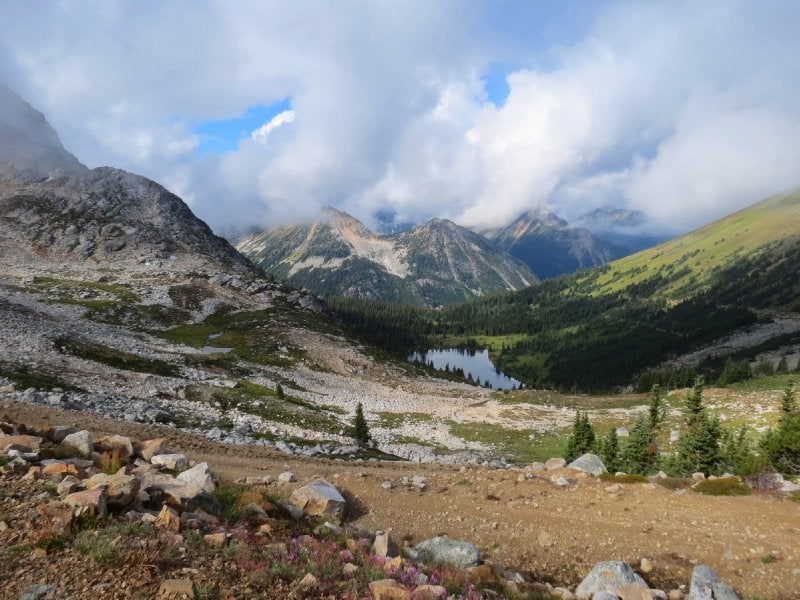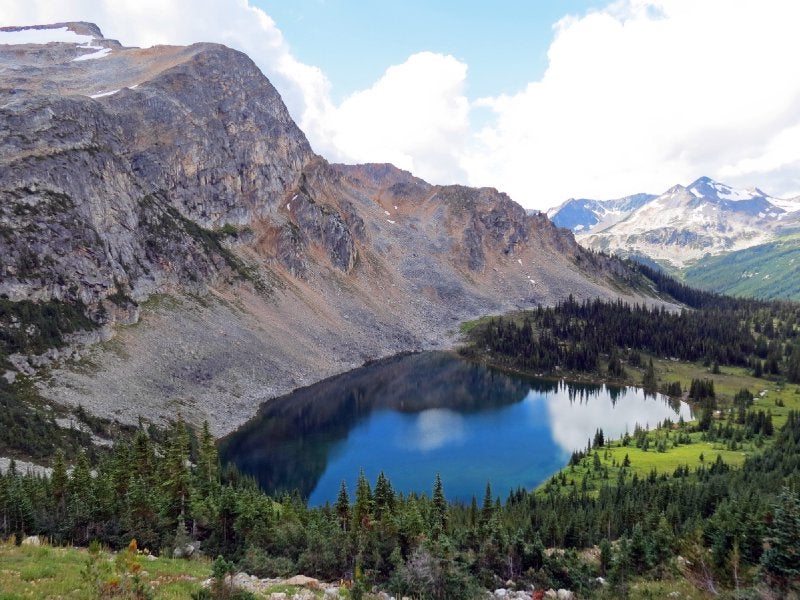 On the whole, it was a quiet visit to the mountains. We saw just two day hikers on their way up as we left, and a couple more on their way down who looked like they were returning from a much longer trek.
Wildlife report?
Many pikas were heard or seen, but no photographs.
Half a dozen marmots were seen, but again, no pictures.
No bears were seen at all, and, most likely, all mosquitoes were presumably killed by the cold as we were not bitten a single time!
As always, the drive down was not nearly as difficult, because gravity works, and before noon we were kicking back with lunch and a couple more beers alongside Duffey Lake. This was a five star outing for all, and many thanks go to Denis for his driving skills, as the road was without a doubt the most difficult obstacle to overcome on this trip! If you haven't had the opportunity to visit Blowdown Pass, then get there soon, it's an experience you won't forget!