Anyone who knows me well enough is quite aware that I'm an obsessed Tour de France fan, so much so that I'd somehow shamelessly work "Le Tour" into the title of a story. There's something about the true sacrifice, courage, and suffrage of the world's premier bicycle race, which was first held in 1903,  that has always fascinated me. I've been a devoted fan of Le Tour for decades. This story, full disclosure, bears no real resemblance to that gruelling 21 stage bike race, seeing as how it's really about a one day tour of the Black Tusk region in Garibaldi Provincial Park. That said, I hope you're enjoying the race so far this year and that you enjoy this tale. Hey, in the end, I'll settle for the latter!
---
It had been some time that we'd been kicking around the idea of hiking up the Rubble Creek Trail en route to camping on the shoulder of the Black Tusk one evening, and then doing some looking around on the following day. So it was on a perfect August afternoon that Doug and I were grinding uphill, overnight packs in tow, starting out on the dusty switchbacks at the relatively late hour of 6 pm. It was a balmy 22 degrees, cooled by a bit of a breeze, and surprisingly, there were very few hikers encountered on the trail. The intent wasn't actually to climb to the summit of Black Tusk- I had done that before, and on this trek we had chosen not to bring our helmets- but to thoroughly explore this ancient volcano's features.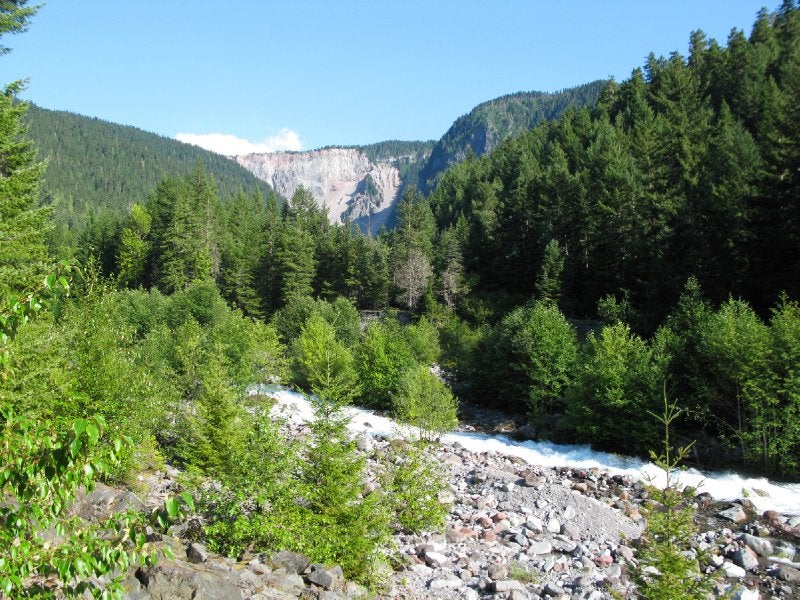 The hike in to our campsite up went exceedingly well! We covered the 1400 metres of elevation gain and 15 kilometres of distance in just about three and a half hours. We then set up our lightweight shelters right at the end of the maintained trail, as per the park signs.   The Perseid meteor showers were in their beginnings, and it was amazing to be in a place so very quiet that was so close to civilization. Garibaldi Lake loomed silently below, and a panorama from Helm Peak all the way around to the Tantalus Range stretched out before us. One could easily see how this place had become sacred to the Squamish people, as there's really no place that is quite the same!
Well, sometimes it's true that all good things must come to an end, because the next thing we knew, an insidious breeze began drifting down from the col above. It started out innocuously enough, but after a while we felt as though we'd been tossed straight into a walk in freezer.  We had not brought an excess of warm clothing ( especially myself), and this was to be a major issue as the night wore on. It would have helped to pack an extra layer or three! Pretty soon we reconfigured the shelter into a double bivy to try to cut down on the draft, which helped a little bit, but I spent one of the most restless outdoor nights of my lifetime. To give you an idea of how cold I was, I wasn't even annoyed that I'd forgotten to pack the beer I'd brought with me, so I'm sure that must have meant we were close to the limits of hypothermic tolerance! The hours ebbed away at a snail's pace, the way they always do when your teeth are chattering. We knew that it was to be sunny and 25 degrees the next day, but of course the night hung on endlessly.
Never was I so glad to see the glow of sunrise nudging the ridge beside Helm Peak at 5 am or so. I don't know how cold it was at Helm, but I'm certain there was probably plenty of rock falling there just as there was on the slopes of Black Tusk above us that night. You see, sleeping directly below the Tusk is kind of like being at poolside with a bunch of big kids behind you, because you never really know if they're going to push you into the pool, or not! After a while, I had convinced myself that most of those rocks were smallish and far enough away, perhaps because we had not the inclination to move anyway. So ended the infamous "Night of the Frozen 'Nads", as we took to calling it later!
Here follows a few images taken at the scene. You'll have to imagine the cold just as I had to imagine the photo, as I had rolled over in the middle of the night and somehow shattered my camera screen! That made photography quite interesting for the rest of the trip, as I had no clue what I was getting in the shots that I took.
I'd be remiss, before telling the rest of this tale, if I didn't give you a little background information on this intriguing destination, so first a little knowledge. The Black Tusk is one of the most identifiable landmarks you'll find in the Coast Mountains. It almost seems to be thumbing its nose at the world, some might say, while others have implied the gesture might be a little more profane! The true summit, rarely reached due to several pitches of hard to protect and fast crumbling rock, is 2319m in elevation. The sub summit I had reached years ago has a worn trail right to the top and stands slightly shorter. It can be seen from quite a distance from the Squamish and Whistler area as you drive along the Sea to Sky Highway (Highway 99). Part of the Garibaldi Volcanic Belt and, of course, the Garibaldi Ranges, it's classified as a stratovolcano
The volcano has been extinct for ages, but trust me when I tell you that when you walk its slopes it somehow seems like it could spring to life at any given moment. Geologists believe that it was originally formed about 1.2 million years ago, and that a second round of activity after glaciers receded eroded the surrounding cinder cone, leaving only its harder lava core. It's thought that the most recent changes occurred just 170,000 years ago, which is relatively recent in geologic time!
Unbeknownst to many, the Black Tusk actually also has two sizeable glaciers, which can be found on the northeast and northwest slopes of the mountain. Like many glaciers today, they are in serious retreat, but since they are also covered in a substantial layer of fallen rock for the most part, they are melting very slowly.
The peak also has great significance to the people of the Squamish First Nations. They call it T'ak't'ak mu'yin tl'a in7in'a'xe7en, which translates as "Landing Place of the Thunderbird". It is said in their lore that the fire and lightning of the thunderbird was what formed the mountain. Having long been fascinated by its unique appearance, I can certainly see why they assigned such mystic qualities to it, as it certainly commands your attention! After all, as original inhabitants, they may well have witnessed its fury firsthand! When you visit, remember these words, and treat the land with the utmost respect.
After the rough night, we didn't expect too much of ourselves, but as it turned out the coffee and cheerios we put down had us on the way to points higher at around 7 am, but not before we'd defrosted somewhat! We walked parts of  the approach trail toward the summit to have a look at the chimney, stopping for all distractions on the way. Most folks who visit only bother with the direct route, so you usually have the outliers to yourself, which I enjoyed a lot. Next time up I think I would want to camp above the col on one of the sub summits, as the views from there are unparalleled!
Here are some scenes from all of that rambling, and I hope you enjoy them as much as we did!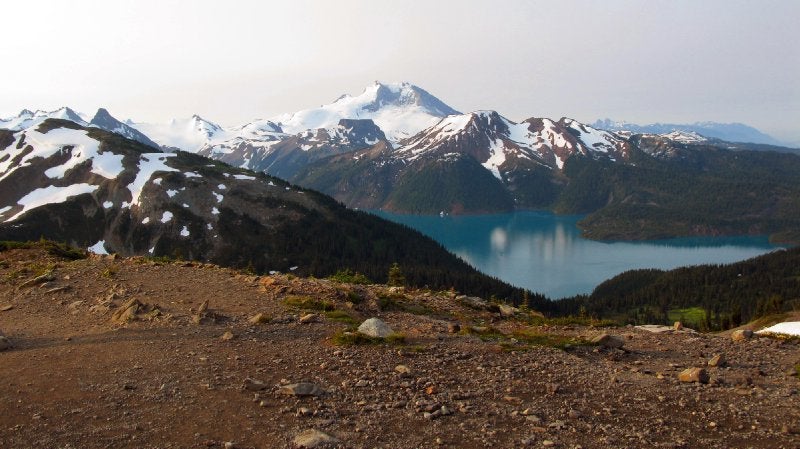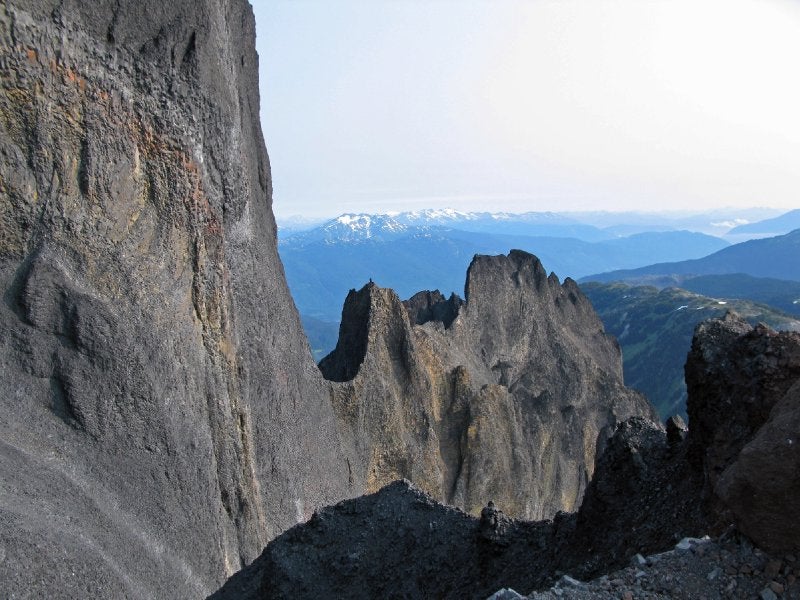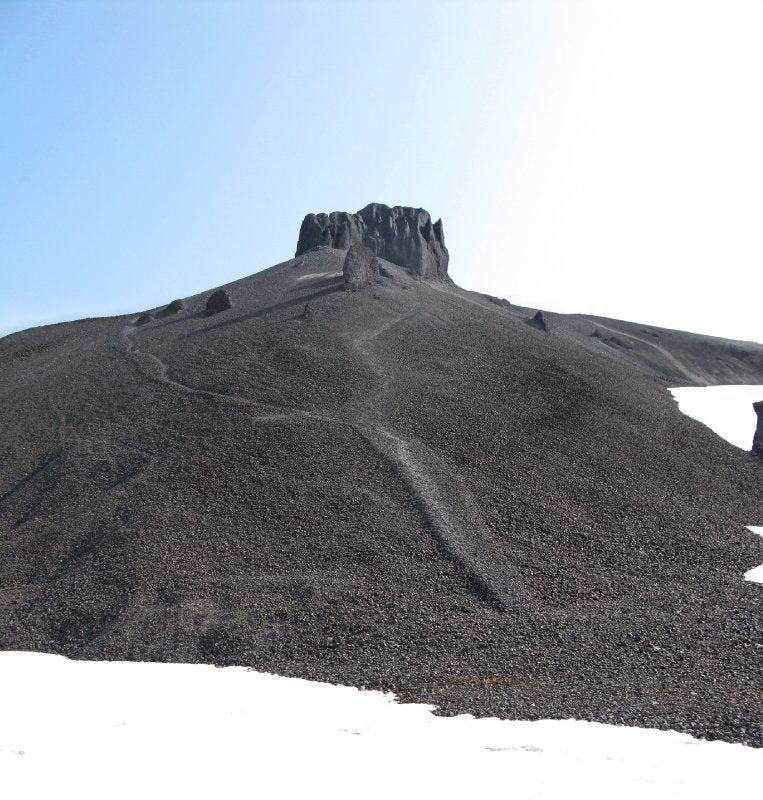 The diversity of this place was very unexpected. I'd just expected to find a big pile of black rock but there was so much more there than meets the eye. Once we'd had our fill of the main summit, we branched out to explore the perimeter areas.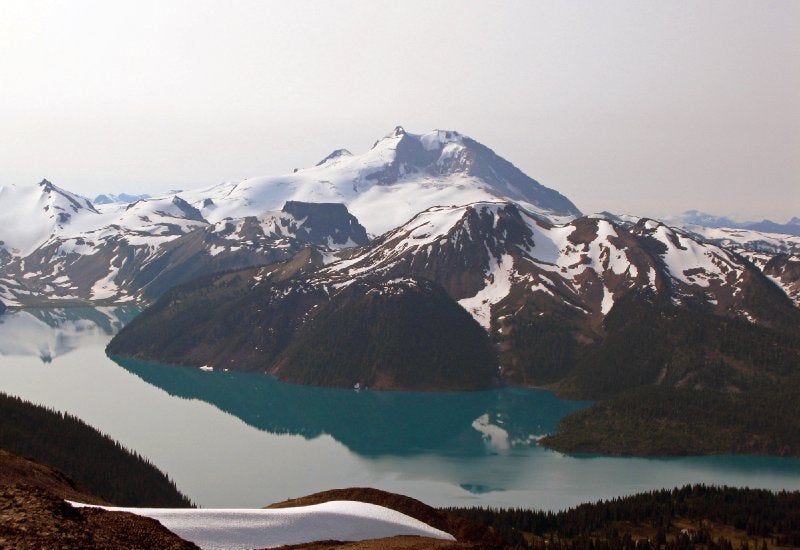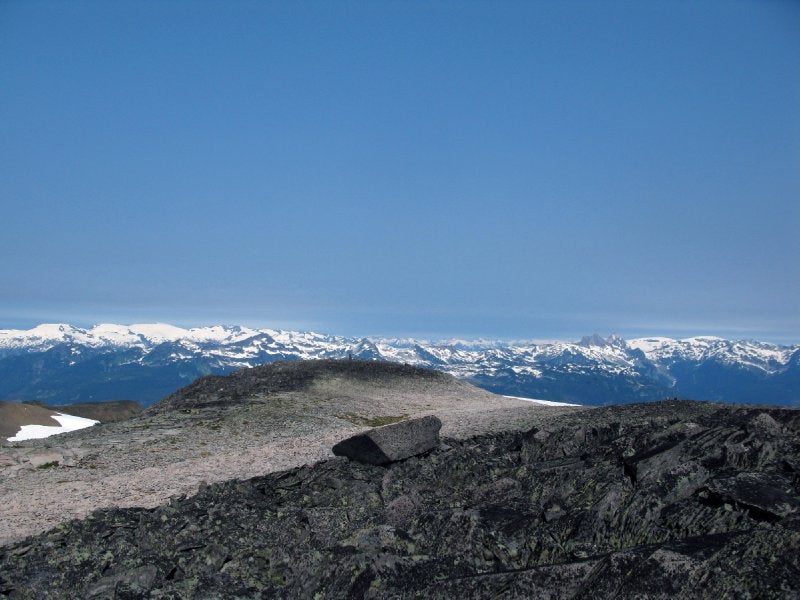 It was at this point we took a break for lunch, not really wanting to leave, but knowing that we had to. Returning to the mountains and forests again and again is seen by many as seeking a challenge, but for me it has always been the easiest thing in life to do. It's the everyday mundane tasks and duties that confront me the most, while the mountains are a place to savour freedom in one of its purest forms! The sunny weather and warmth of the midday sun may even have been the very best part of all, as we soon forgot the cold of the previous night! It took a couple of hours to descend the path back to the parking lot, and we soon met the first of the hikers on their way uphill once we reached Taylor Meadows.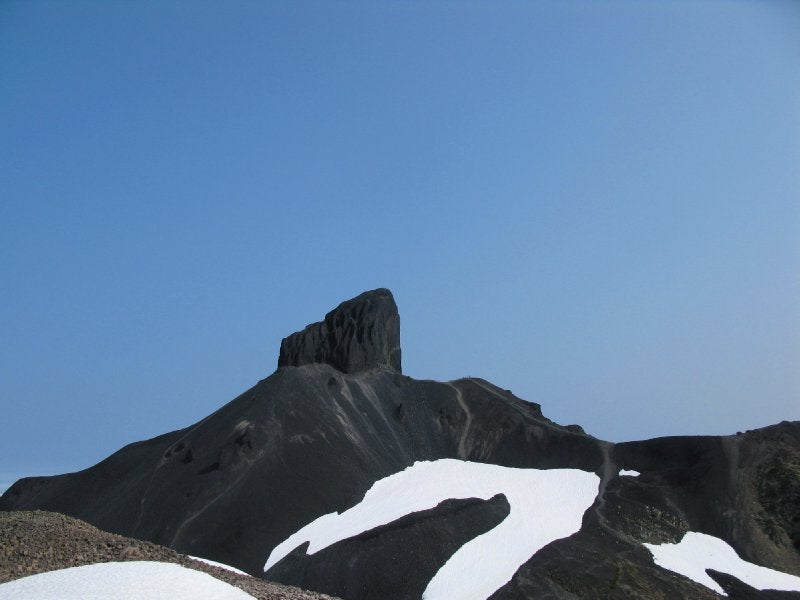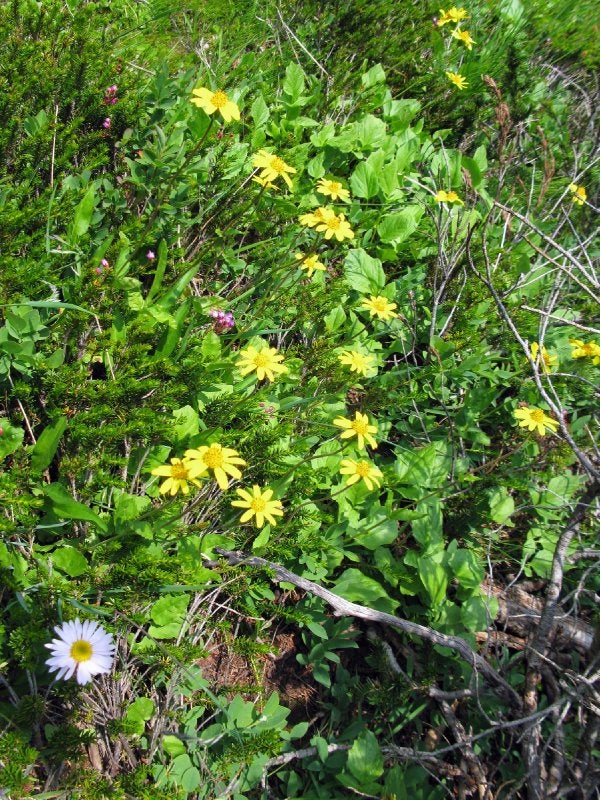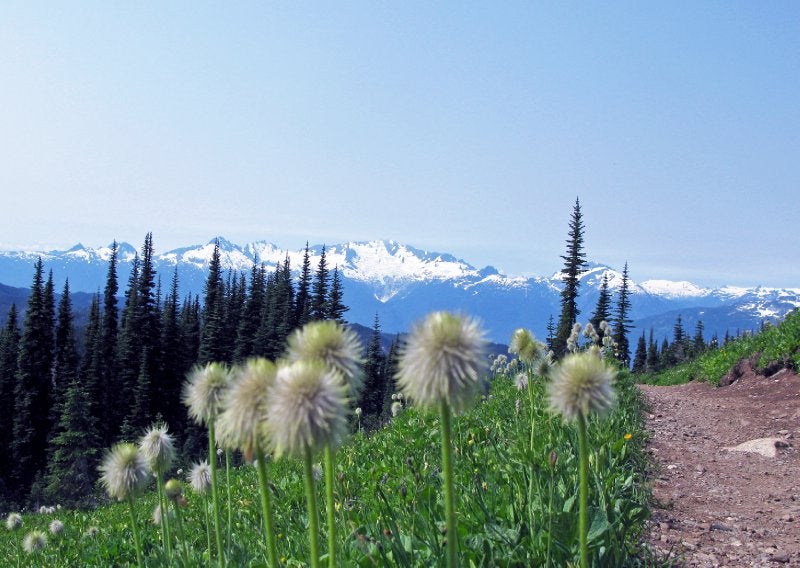 The Tour de Black Tusk ended very well, though the haze of distant wildfires obfuscated some of the views, and by mid afternoon we reached the truck and our highly anticipated cooler of beer. We met scores of people on their way up the trail to Garibaldi Lake. It was a popular place then, and that's even truer today. All manner of folk were seen, in all ages, shapes and sizes, and in widely ranging states of preparedness. In the parking lot we enjoyed some much needed refreshments and were even gifted some cheese by some hikers from Washington that we met! Random acts of cheeseness, what more could a Canadian ask for?
While it might be difficult to time a trip to this wilderness in order to avoid the crowds, the highly unique terrain of the Black Tusk is without a doubt worth the effort. If you manage to see it for yourself, here's hoping your tour goes as well as ours did, minus the evening chill!