---
"Whose idea was this anyway?" It was September of 2008, and the question was Ted's, as we traipsed up the old road to Singing Pass. The answer from Denis came quickly: "I believe this was your idea. You getting old or something?" I don't remember the rest of the conversation, but I know it included some pretty good back and forth!
That was unsurprising, considering the two had been hiking and climbing together for decades and were well into their sixties at that time. As funny as I found their banter,  I just wasn't wide awake enough to laugh, though I wryly kept asking "Are we there yet?"
It was a lengthy approach, but I was still more than curious about our destination. Fissile Peak, part of the Overlord Group, boasted volcanic rock and fine views of the Overlord Glacier, with close proximity to Russet Lake. Even today, this part of Garibaldi Provincial Park is still relatively quiet. Once the snows recede and the skiers pack it in for the season, you're unlikely to meet many other hikers on most days. The previous year, Ted had climbed Whirlwind Peak and Overlord Mountain, so he was keen to complete the trifecta by ascending Fissile.
Soon enough,  but not nearly soon enough, we were passing the old mine adit at trailside and Cowboy Ridge was within our sights. Just like that, we were out of the trees and following easy switchbacks to the broad plain above. Some of Garibaldi's grander summits were already front and center, and the icefield of the Cheakamus Glacier shone brightly in the morning light.
What was the highlight of the trip for me, though, was that up until that day I'd never had the chance to see a marmot in the mountains up close. Sure, I'd seen them at parks and campgrounds in British Columbia's interior, but never on an alpine excursion. This trek proved different! An entire family of marmots, in no hurry to scurry away from us, were out to welcome us to the area. We happily hung out with them for a while before heading up toward Russet Lake.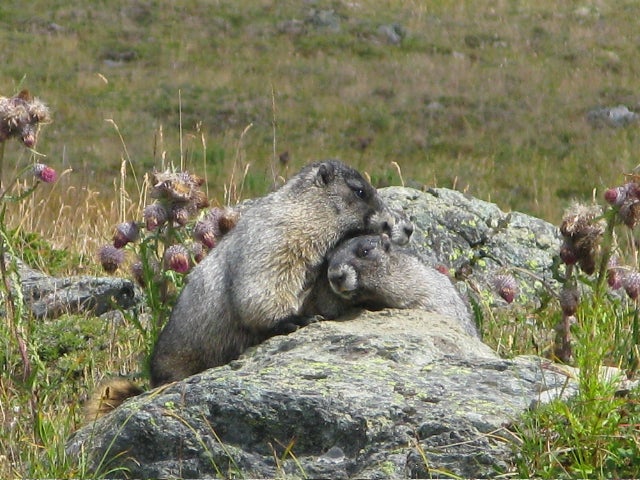 Well, that was unexpected, I remember thinking. So you ask, could this day have gotten any better? Well, yes, and no, as I'll soon describe. We continued our stroll toward Russet Lake, opting not to check out the old Himmelsbach Hut (which I recently learned has now been rebuilt since then).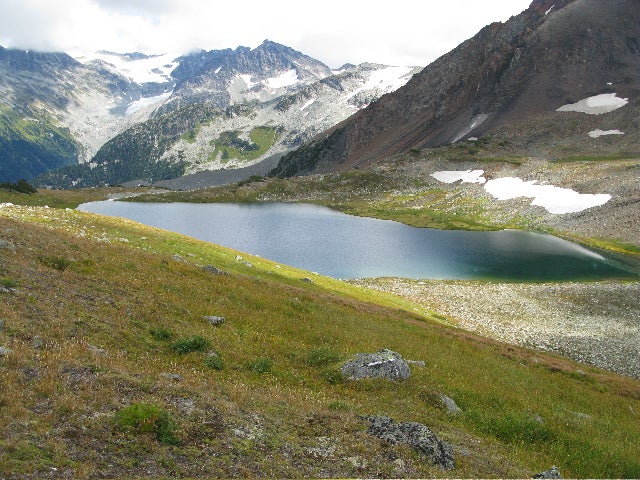 Back on the trail after that moment of respite, pretty soon our quarry was within sight. Fissile Peak is a dramatic sight as you approach it, rising abruptly from the dry alpine plateau. As I alluded to earlier, Ted had been this way a few years earlier when he'd climbed Whirlwind and Overlord Peaks, and he knew well these mountains had a reputation for loose rock. The routes up the mountain, as written in Matt Gunn's guidebook, described two options. We chose the first, something of a free for all scuffle up an intimidating pile of scree, which, coincidentally, describes this mountain to a tee. Pretty much anything you lay your hands on or step on is a potential souvenir!
Remember New York Yankees catcher Yogi Berra, known for his peculiar sayings that stretched the boundaries of the English Language? One of his gems was "No one goes there nowadays, it's too crowded." Well, he certainly wasn't talking about Fissile Peak, which is way down on Garibaldi Provincial Park's to do list. It isn't a place recommended for the novice hiker, to put it mildly. If you must go, be careful and persistent and you should be able to make a go of it.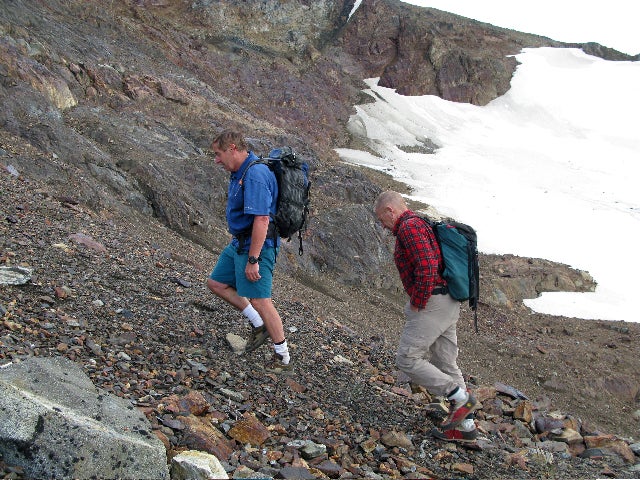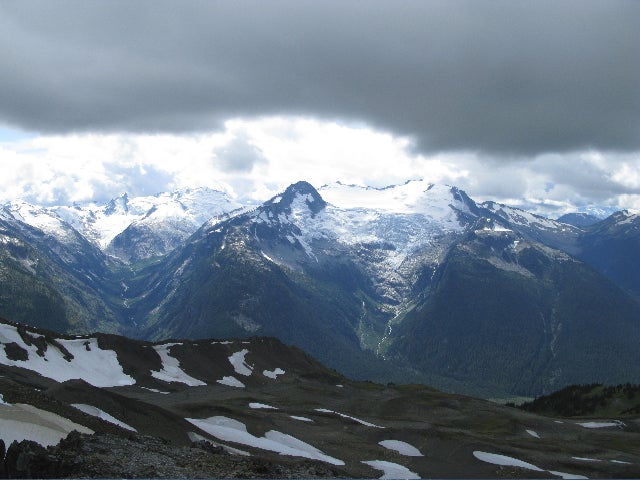 After about ten minutes of steady plodding, the loose rock unleashed its fury, resisting our every step. We each chose different lines to prevent rockfall issues, but none of us won the blue ribbon for route selection. I chose the worst line, wrenching a knee in the process, but it proved none the worse for wear. Soon we could see easier ground, two steps forward, one step back!
Once we attained the well earned ridge above, views really began opening up far and wide. The Whistler area is a great place to wander as long as you can sort out the parking and access issues. I can certainly say with conviction that I've never spent a bad day in Garibaldi Park!
Next it was simply a matter of scrambling up to the summit for a very well deserved break. We had a great laughs reading all of the quotes in the summit register. Such beauties as "I can't believe I lived!",  "I'm not dead!" "How do we get down from here?!", and "OMG, I'm still alive!"
Ted jokingly commented "I'd never have left that last comment. Not so fast, buddy, you're not down yet!"
Denis and I could only concur, with the climb still fresh in mind! The views, on the other hand, were splendid, and we took more than our standard ten minutes on the summit to admire them and eat lunch.
More incredible scenery unfolded as we worked down the ridge line. "Route Two" in Matt Gunn's Scrambles in Southwest British Columbia was our choice on the descent. There was no way we were coming down what we'd encountered on the way up! There is a bit of  stiff third class scrambling to drop down off the end of the summit ridge, and then some moderate scree sliding as you reattain the valley. All in all that worked out very well. Soon we could say we'd made it down this mountain, followed by a quite a few of its rocks!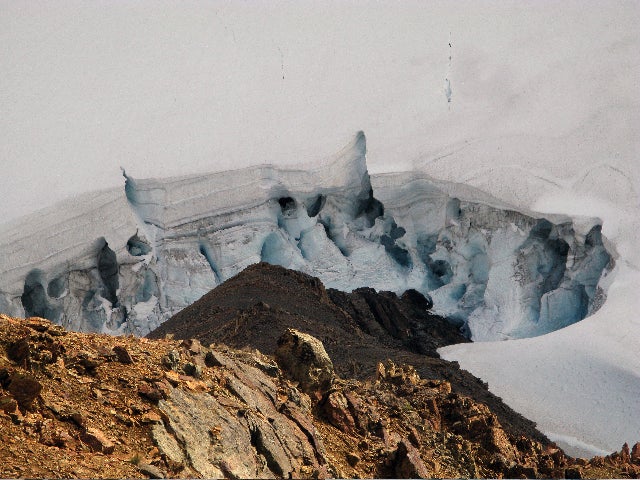 It was with great satisfaction that we staggered back down toward the trail, meeting some ptarmigans along the way and enjoying the 360 degree views. What a place! Those ptarmigans were very well camouflaged, because we nearly stepped on them! This trip certainly had been great for wildlife sightings!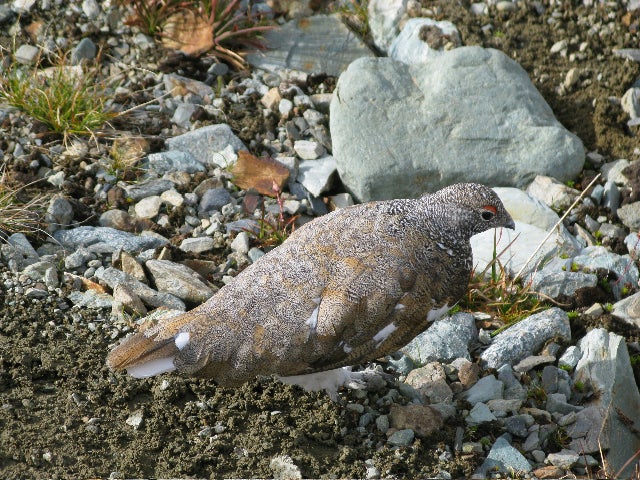 A successful climb was in the books, in more ways than one, but this trek was far from over. You see, a total of 34 kms had to be walked before the journey would be complete, and we were barely halfway there. Mercifully, the temperatures remained comfortable as we started our long hike back to the truck. Since leaving was gradual, there were of course more scenes to be admired as we bantered endlessly about beer and potato chips, or rather, the lack of same!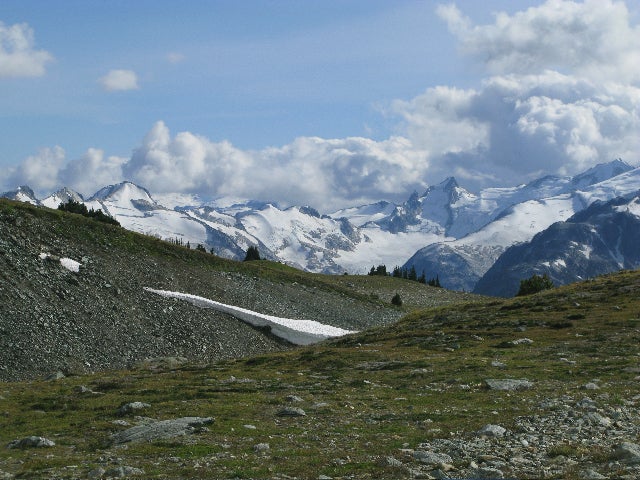 The better part of four more hours had us arriving back at Denis' truck down in Whistler, where we were three very happy guys! For those interested, the Coles Notes on this trip: Elevation gain was approximately 6300 feet, that courtesy of Denis who measures vertical gain the old school way! 34 kms hiked, or about 21.25 miles. One could make the case for climbing this mountain on spring snow, if it managed to spare you the struggle up the scree. You could also choose to camp at Himmelsbach Hut if you had the time, but that wasn't going to happen with these guys. To quote Denis "Why the hell would I want to sleep in some drafty alpine hut when I have a perfectly good bed at home?". Lastly, I'm not recommending this mountain to all my friends, and that's basically because I'd like them to remain my friends!
To begin with, beer may have been enjoyed at the parking lot, and on the way home we decided to stop at Wendy's in Squamish and load up on cheeseburgers and fries. It was one of the best decisions we made all day! What a sight we must have been walking up to the counter with the uneven gait of three old western gunfighters. It was a helluva way to end the adventure! It didn't look at all like this, but who doesn't love "The Good, the Bad, And the Ugly"? This trip, as it turned out, was all of those things, and more!