Friday, the 12th of July, 2019. It was a warm afternoon as I pushed my bike onto the ferry at Departure Bay. My destination? Horseshoe Bay, where I'd catch a ride with Steve. The morning after, we'd be meeting up with Doug for a biking and hiking expedition to Capilano Mountain. It would be my first hiking trip back on the mainland since moving to Vancouver Island, and I was really looking forward to the trek!
 This, for Doug and me, would be a return to a mountain that we had first climbed some 14 years ago, and I was wondering just how well we might recollect the details. If you're up for a comparison of two fine adventures and a dash of historical perspective, grab a refreshment or two and read on!
For clarity, I'll first cover our "ancient" history from the first excursion, before recounting our recent experience. Much of the route remains the same, but there have been some important changes since then, not to mention that time may have altered our impressions somewhat!
**************************************************************************
The heat of the summer sun had begun quite early on that summer morning in late August of 2005. As on many of our trips, just as we still do today, we relied on the directions in Matt Gunn's
Scrambles in Southwest British Columbia
. It's always an invaluable resource and I highly recommend you get yourself a copy!
After 14 years, you'd expect there to be some gaps in our memories, but for the life of me, looking at some of these photos it seems as though I must have done this trip with a possible concussion. Oh, wait, come to think of it, I may well have, but more on that later! The first strong memory I had was crossing a massive washout of Beth Creek before finishing the bike portion of the trip. It wasn't long after this that we cached our rides at the trailhead, elevation 665m.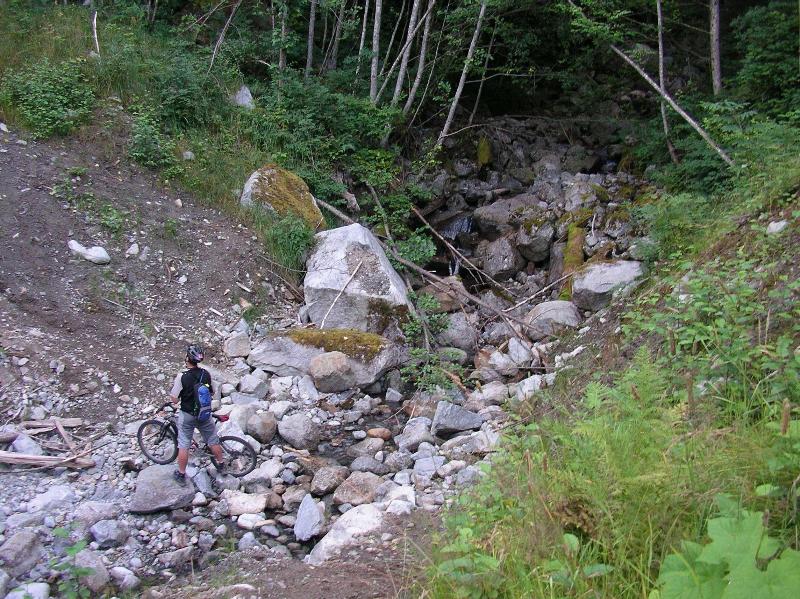 Much as you'd all know or could probably guess, by the name of this website, I'm a real aficionado of old growth trees. We must have been moving very swiftly that morning, because my impressions of this forest seemed inadequate, to say the least. Doug's own notions were similarly understated. When we walked this trail so many years later, observations were to change, but here were the only images of those ancient trees I recorded at the time.
Beth Lake is a stunning place, and I vividly recalled being struck by its beauty. Then, as now, the shadows cast by the ramparts above make the lake challenging to photograph, especially as one tends to arrive in morning light. What we both remembered best were all of the berries we ate there! It turned out we thought the lake was at about 1000m in elevation, but actual statistics have it at 1085m.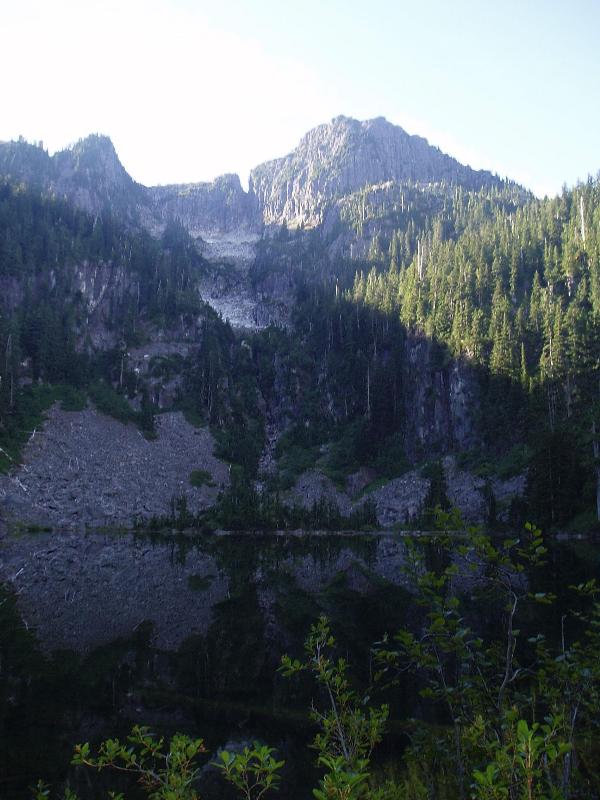 There was never going to be any confusion about the trail's next segment, a short and winding track that passes alongside some of the more massive slide boulders you will ever find. Fourteen years ago, the insects seemed to meet us here among the rocks, and as we stopped briefly for lunch, so did they!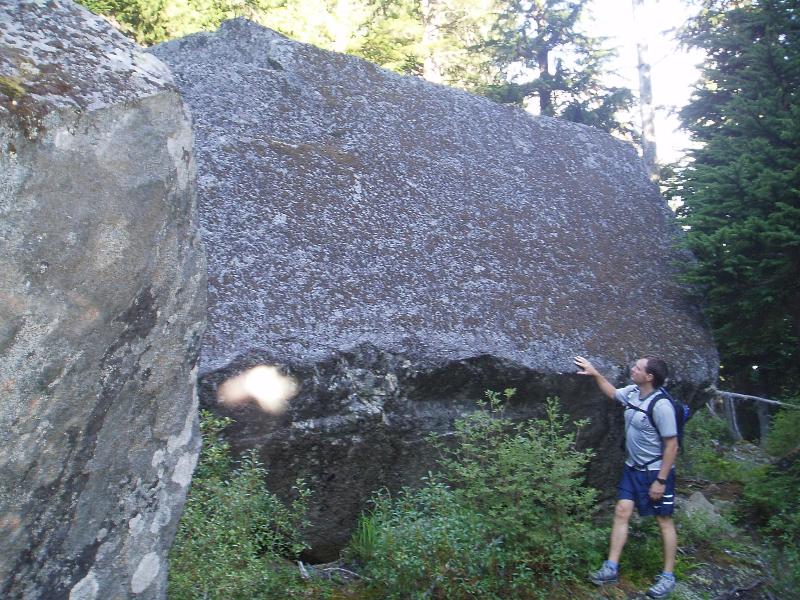 All recognition of these images of the climb up to the boulder field above the lake that followed seemed blurred, at best. Normally my visual memory is exceptional, but in this case I was glad to have taken photos because they were all the history we had! I honestly could not even recall anything about how difficult it was, and neither could Doug. The views of the surrounding Coast Mountains were excellent, as you can see in the next few snapshots!
The boulder field just below the alpine basin was the next focus of our attention, according to the pictures.  I'm not sure whether it was a product of age, mine, specifically, but years later this part of the hike sure seemed a whole lot steeper!

The path ends up leading you through several notches as you make your way in behind and past the Beth Lake Ramparts. For quite some time you continually gain and lose elevation on the way to the summit plateau, which gets frustrating if only because you know it's going to repeat itself on the way back! Second time around, we had but faint recollections of that process, but the passage of time can paint the scene differently, can't it?
In 2005, we also saw plenty of signs of bear activity, and that was just as true in 2019, though on neither trip were bears actually sighted. Once you get further along the ridge, a real alpine playground is your reward. There are scores of beautiful tarns set in fields of granite. Water sources seemed very clean, though on both trips we used filters just to be sure.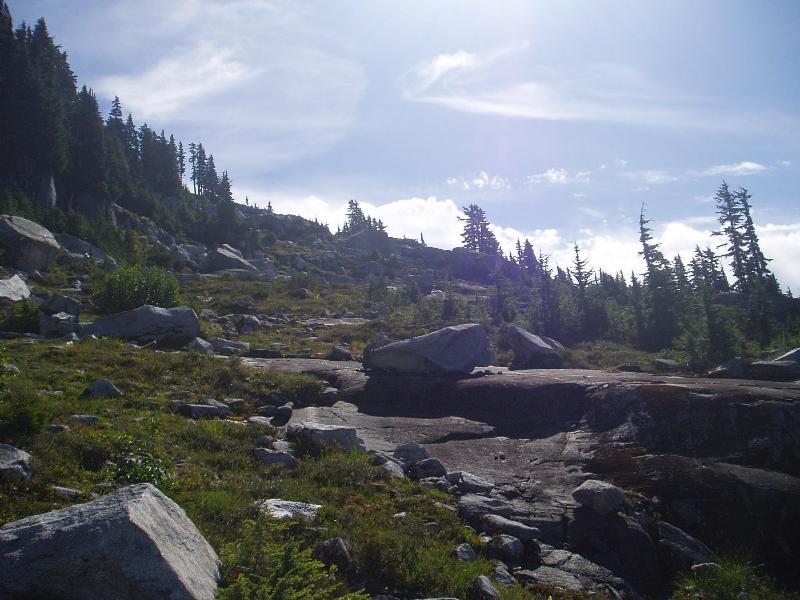 The way to the summit was reasonably well marked. Once you pass Gordan Lake, you can expect close to another hour of hiking to land you on the top of Capilano Mountain. Anyone who visits will no doubt remember this part of the walk, which exemplifies all the best qualities of the Coast Mountains!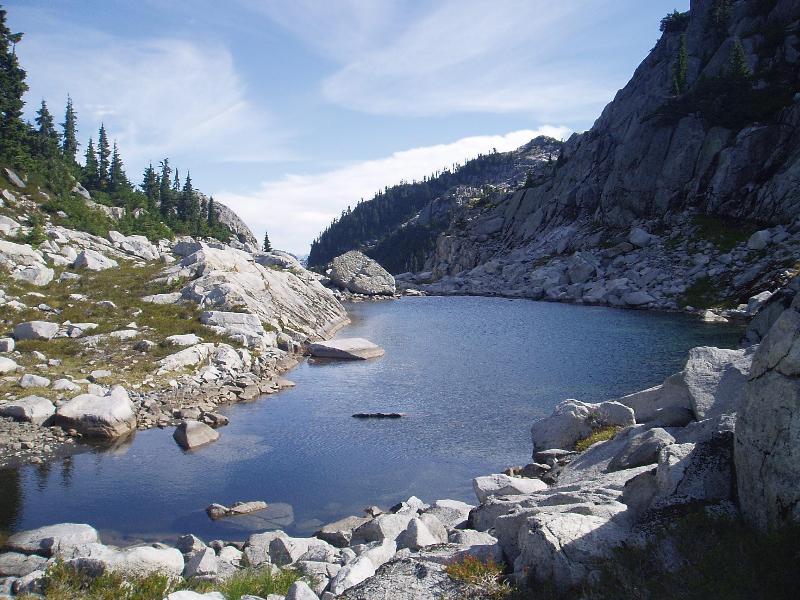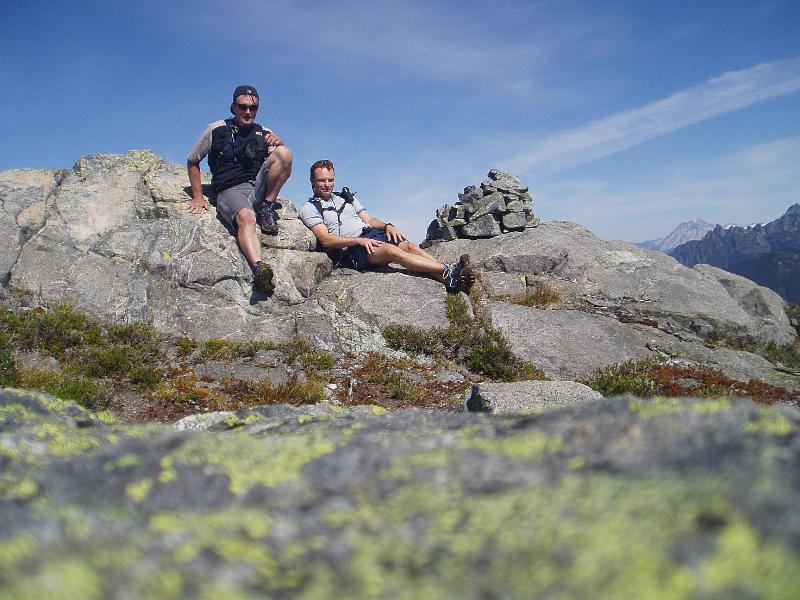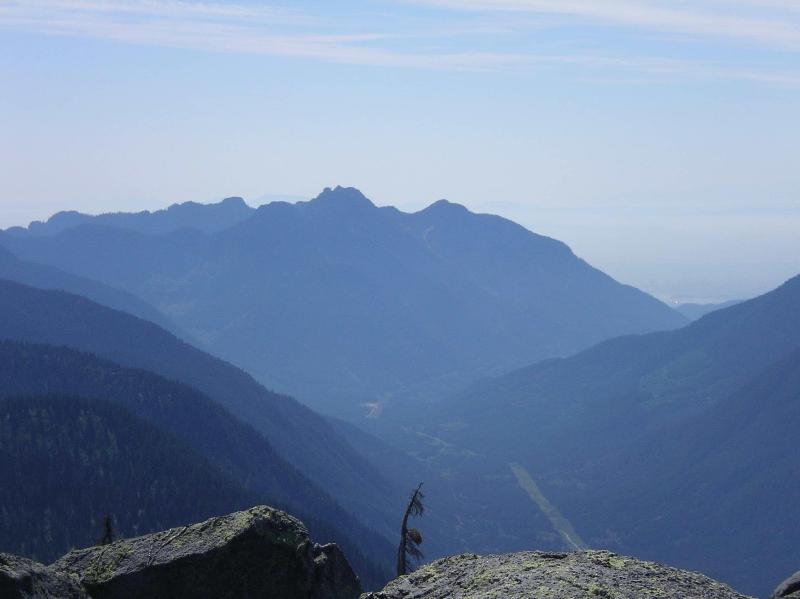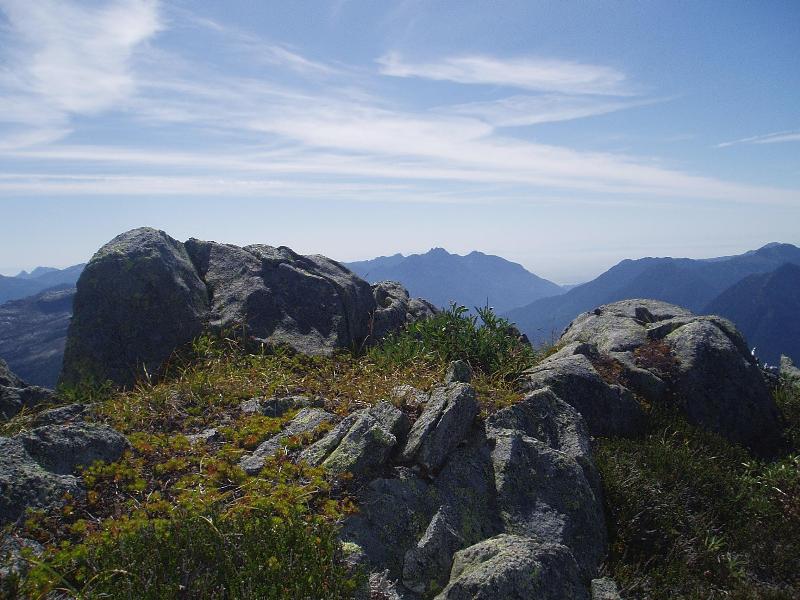 In 2005, we spent about fifteen minutes on the summit before turning around. On the way back there were even some sections we even jogged, where possible. The weather held up magnificently, and there was no thought that it was going to rain at any time.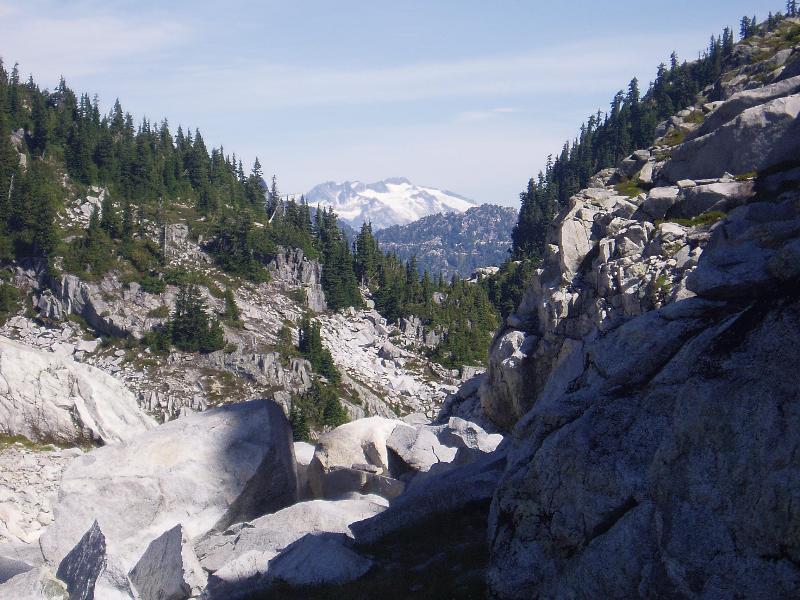 The journey back went very swiftly, with one serious hitch. On the ride down, my bike hit a rut and I ended up sailing over the bars, landing heavily on my ribcage. I was shaken up, bloodied and bruised, but my pride was probably more injured. Still, despite that, it took just twenty more minutes to return to the bottom of the road, once we got riding again. After 8 1/2 hours, we were back at the truck, daydreaming about cold beer! Later on, in the weeks that followed, I had typical concussion symptoms like headaches, dizziness, and sensitivity to light. Well, that, and several cracked ribs! Be careful out there, folks, and wear your helmets!
**************************************************************************
The weather on the 13th of July, 2019, was quite uncertain. We expected a mix of sun and cloud, with a strong chance of showers, but decided to give it a go anyway. It was about 8 am that we started out riding up the logging road.
We weren't as quick as expected on that ride. Doug seemed to be going strongly, but Steve had a bit of a sore back and I just seemed a bit tired. When we reached the correct spur for the turnoff we actually biked right past it, but luckily, we checked our bearings after a few minutes.
That was a good catch by Steve, and it no doubt saved us much unneeded exercise on the day! With said diversion out of the way, we now cycled up the somewhat overgrown spur that would eventually land us at the trailhead. We knew it was the right road when we soon reached the familiar bridge over Phyllis Creek.
Somewhere around 450m in elevation we encountered a substantial washout that seemed relatively recent, but at least there was no problem carting our bikes around it. That was more than we could say about the next one, which was bad enough that we decided to cache our bikes much earlier than we had hoped.
The hiking, as a result, began around 200m lower in elevation than in 2005, and a couple of kilometres in distance of walking were also added to the trip. We didn't feel it then, but we certainly would later! It took at least another hour to finally arrive at the Beth Creek washout, which was near where we had left our bikes on the first trip.
On the ride up, naturally, we told Doug about the "Rattlesnake" song, so from that point on in the entire trip any obstruction, challenge, or random topic of conversation had us chanting "Rattlesnake! Rattlesnake" at opportune times. You might be surprised how funny a recurring joke can be over the course of an entire day. Between that, Seinfeld dialogue, and South Park imitations, we kept ourselves well amused!
For a taste of the best of Eric Cartman, click here.
We kept a steady pace on the trail, and worked our way up to the old growth forest which starts at roughly 800 metres elevation. That was where the fun began. Steve was  on the lookout for Porcini mushrooms, which were expected to be in season considering recent rains. First there was one, then another, and another, and another, and… you get the idea! He finally reached the point where he'd be adding too much pack weight if he didn't wait to pick them on the way back. As it was, even after trimming the mushrooms they weighed over five pounds. This, for Steve, was a constant source of joy all day long!
As much as Steve was stoked about all the mushrooms, I was equally enthralled by the ancient forest we found ourselves in. Yellow Cedar, Pacific Silver Fir, and Mountain Hemlock were the dominant species, and the chattering of Beth Creek nearby added to the ambience.
Morning at Beth Lake, soon after we emerged from the forest, was all too familiar. The one regret was that sadly we were too early in the season to gorge ourselves on berries as we had done many years ago! As before, we took a break near the lake boulders for lunch, and once again, the mosquitoes found us in seconds!
We worked our way through steep forest after leaving the lake area, which we knew would give passage to the boulder field. There were even more mushroom finds, and more than a few venerable trees in this subalpine forest to keep us amused. Much to our chagrin though, the boulder field was not as close at hand as we had speculated!
Just as we were approaching the draw that contains the boulder field, we stopped to filter some water. The clouds above were starting to look a bit suspicious, but we were somehow convinced it wasn't going to rain. Still, as we shifted into low gear heading for the ridge above, the views behind us were definitely becoming more obscured.
Though it seemed like a long time grinding up to the ridge, we finally arrived. Now came the circuitous ramble that would take us behind the ramparts into the alpine basin beyond. On the way, we ran into a mother grouse, and for a time the clouds even hinted at blue skies!
As mentioned before, Capilano's broad alpine basin, though it takes a solid effort to reach, is what really makes this trip worthwhile. Unfortunately, as luck would have it, the rains arrived there just as we did, dampening our spirits a little. At the time, I remember saying if we wanted the sun to come out, we just needed to put on our rain gear. Just a few minutes later, we were peeling off our jackets as the sun broke through the clouds. I've no doubt in my mind it would have deteriorated into a torrential downpour had we left them at home!
We pushed onward, with the aid of countless jokes, toward the summit. There was a bit of route finding involved, but the views were now becoming very worthwhile. Our first order of business was to once again lose some hard earned elevation gain as we made for the summit ridge. So close, and yet so far away.
Doug's memory returned as we began the climb up a steep slope filled with heather, and he reminded me of how we'd wrestled with that problem on the first trek. This time, after a fresh rain, plenty of care was needed just to stay upright! Steadily though, the summit got closer and closer!
And then we were there! It was just as I recalled it, a broad and rambling granite plateau, with expansive views everywhere! We took some time to enjoy our lofty perch, but not too long, as I had to be down in time to catch the ferry homeward. In the end, with a more relaxed pace and so much exploration, this trip ended up taking us over four hours longer than it did in 2005! Here are some of the sights and scenery we took in at the summit!
With some regret, we began the trek down to the tarns, happy in the knowledge that we were halfway home! On the descent, we had some unfinished business to take care of in the form of retrieving Doug's bear spray and gathering more of Steve's mushrooms. The emerging sunlight meant we'd be staying dry, at least!
It was at about this point that I began to get a bit of a leg cramp, but lately Steve always packs electrolyte tablets to add when he filters water. They are an item I keep forgetting to add to my own kit, as they've proven useful many times. Luckily the tablets breathed life into me at just the right time, but they didn't help the sore back I was also dealing with. Getting older isn't always fun! We hiked onward, behind the ramparts, up and down, up and down, up and down… until we finally reached the boulder field again.
We busied ourselves with hustling toward the bikes as best we could, but it soon became apparent I wasn't going to make the 820 pm ferry at Horseshoe Bay, so I'd be catching the 1040 pm sailing. Steve's cache of mushrooms also steadily grew on the hike down! When we finally reached the bike cache, I walked right by it, not noticing my GPS had recalibrated somewhat. The ride down went well, albeit cautiously for me as I was unable to adjust the seat post on my bike. Once we reached the trucks, everyone breathed a collective sigh of relief!
We chilled for a while before moving on, as the sun began to sink slowly out of sight. An hour or so later, I was laid out on top of my pack on the deck of the ferry, utterly spent and gazing at the full moon. It would be after midnight before I was on my way home from Departure Bay, and two more hours until I finally slept. It had been a long and rewarding day!
2019———————–
Biking onto the ferry, staying at Steve's. Delores and Bosco
Repeat it all, speed walker, finding the mushrooms, finding the bikes, ride down, ferry ride home by 1 pm
Notes, electrolyte water tablets, Steve's filter
Bagger challenge spooning, Tweedsmuir, Burwell, wtf is with our memories? Only remembered a bit re the forest, the climb up to base of boulder field, and the swim tarn area, also a bit about the climb up to the summit last pitch
How the hell did we manage to do this in just over 8 hours even after I endoed and broke my ribs? That was 2005, this is now. Arguably I think Doug could have managed it this time in 1 1/2 hours less, but the rest of us were on the limit.