You've no doubt heard the story by now. It's one of overcrowding, lack of planning, and the abysmal management of a natural treasure. With all of the current controversy regarding Joffre Lakes Provincial Park, sometimes it's hard to remember that it 's also one of the most idyllic places in all of southwestern British Columbia. This park, located at the summit of Cayoosh Pass, is just north of  Pemberton on Highway 99. The turquoise lakes, glaciers, and towering peaks make it popular year round, but the summers are when it's busy beyond description.
So exactly what happened to cause all the issues? Well, with the advent of social media, the expansion of the Sea to Sky Highway, and the excessive promotion of tourism, came a huge influx of visitors. When you combine that with the destruction of the old trail in favour of a wider gravel path, and a zero dollar increase in parks management funding over the last fifteen years, what you have is a recipe for disaster. Long before the ridiculous and sometimes unruly crowds, however, Joffre Lakes was a markedly different place to visit. Even if you turn back the clock a mere dozen years, the park was a far more pleasant experience, though even then there were clear signs of change. Well, if you've been of the mind that a place this overrun just isn't worth seeing, then continue reading and I'll try to illustrate why you might want to rethink that resolve!
It was in July of 2008 when I finally found my way to Joffre Lakes Provincial Park. I had heard it could be a bit crazy in the sunnier months, so I'd avoided it mostly for that reason. Most of the people I knew in the hiking world had already spent plenty of time there by then. It was an overnight stay in the parking lot and a trek to the 2377m summit of Mt Tszil that served to change all of that for me. I arrived on an early July evening to meet up with Ted and Denis, who were climbing nearby Saxifrage Mountain earlier that day. Once there, I spent a lot of time rambling back and forth to Lower Joffre Lake just to photograph the mountains and glaciers as the sun began to set. The parking lot had but nine other vehicles in it, which is unimaginable by today's standards.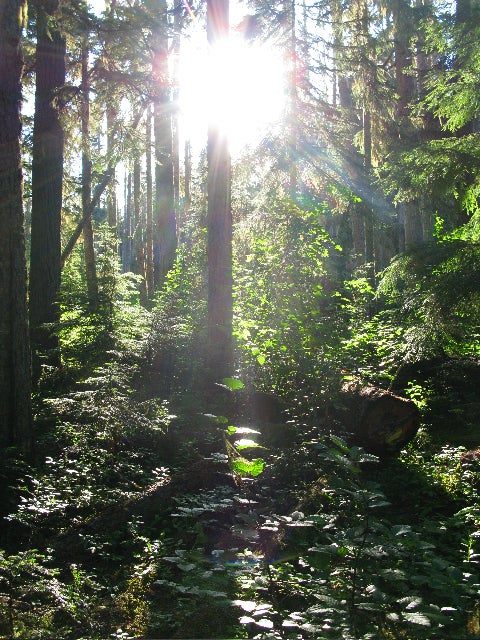 The guys arrived around 10 pm, a bit tired and short a couple of pints of blood courtesy of the hordes of mosquitoes in the Spetch Creek Valley! We hung around shooting the breeze and enjoying a couple of cold beers before settling in for the night. We knew we'd be starting out very early the next morning.
Arising early to make coffee, I found the clouds had closed in and the bugs had now come out in full force. During the night the valley had chilled and we awoke to clouds of mist swirling in the parking lot. The weather was expected to clear as the day wore on, as we geared up for what was sure to be a long trek. Soon Denis and Ted were ready to go, and a short while later we were hiking the beautiful trail up the Joffre Creek Valley. Rolling fog and cooler temperatures made for fast travel, and on the way I enjoyed the Kendal Mint Cake Ted had brought up for me!
At Lower Joffre Lake the sun had been struggling to emerge, but by the time we arrived at Middle Joffre Lake half an hour later it had nearly won its battle. There was plenty of chatter to kill time, bit it was a lively discussion about the right kind of chips to eat that dominated the trail conversation. Denis is strongly against flavours, strictly preferring plain or ripple chips. Despite the fact I am of the same mind, it was fun getting him to evaluate all the other varieties. Lines like "If I wanted a dill pickle, I'd be eating a dill pickle. Why would I want my chips to taste like one!", and "Ketchup is a condiment. If you must add it to your chips, please do so privately with packets, because I don't want it on mine!", or "BBQ flavoured chips don't really taste like anything I've ever barbecued, so I don't understand that idea at all!" were the order of the day. Ted had heard it all before, and seemed more concerned with where we were going next and the beer we'd be drinking later on.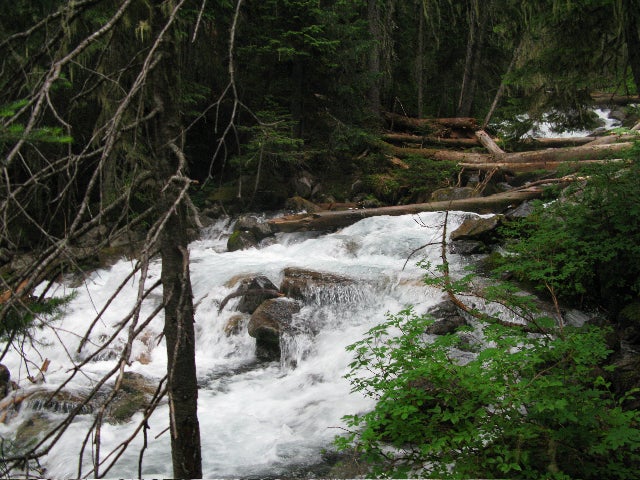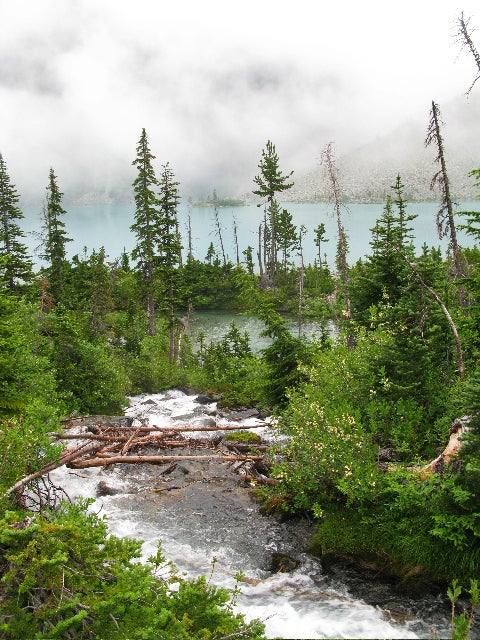 In no time at all, we had reached Upper Joffre Lake and would be scouting for the somewhat obscure trail that leads you up into the alpine. It winds through the woods and eventually to the bottom of a large lateral moraine of the Tszil Glacier, where a steep and rough track follows a spine into the col between Mt Taylor and Tszil Mountain. The path was soon located, and so was a sweater lost recently by someone we knew through the Clubtread hiking website we all hung out on. The guys, uhhhh, put that to good use in their latest comedy routine of the day.
The route was well marked and reasonably straightforward, and soon we found ourselves staring down the summit block of Tszil Mountain. The line of ascent was simple to figure out, and much sooner than we had figured we were standing on the summit, in less than four hours from the cars. Not too bad, especially for Ted and Denis, who had knocked off 1500m of climbing the day before!
Originally, we had planned to climb Slalok Mountain, but the guys were pretty burned out from the previous day's climb so, between that, and the whiteout we encountered, Tszil would be enough to content us that day. We sat high above the clouds, enjoying our lunch and the constantly changing scenery.
Soon, with snacks now consumed, we departed the summit, and were now basking in the warmth of sunshine. Along the way the guys ran into a couple who had just finished a trip to The Alps, and spent a while discussing their experiences there. Feeling the need for some solitude, for whatever reason, I decided to wander down the ridge further to take photos of the lake and mountains. I marvelled at the clusters of tiny wildflowers, and the way they take advantage of every opportunity, while the calls of pikas occasionally broke the silence.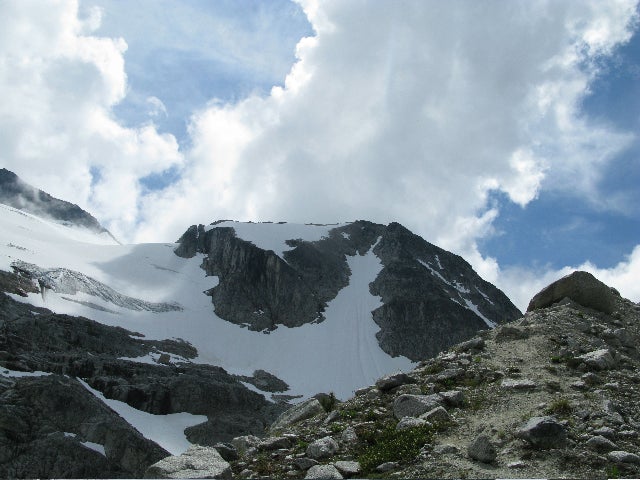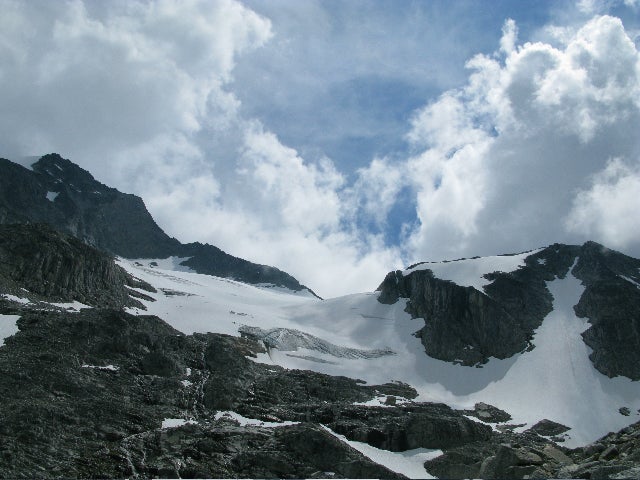 Eventually, it was time to retrace our steps back down to the lakes, where we experienced a fairly hectic hike back down to the parking lot. Keep in mind this was a weekday in 2008, and the crowds today have increased at least twenty fold! Then, as now, there were a lot of impatient people on the trail, many spectacularly unprepared, and plenty of peculiar behaviour to go with them.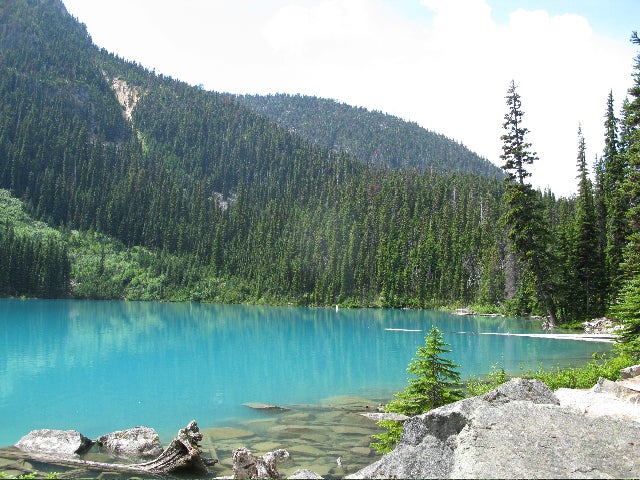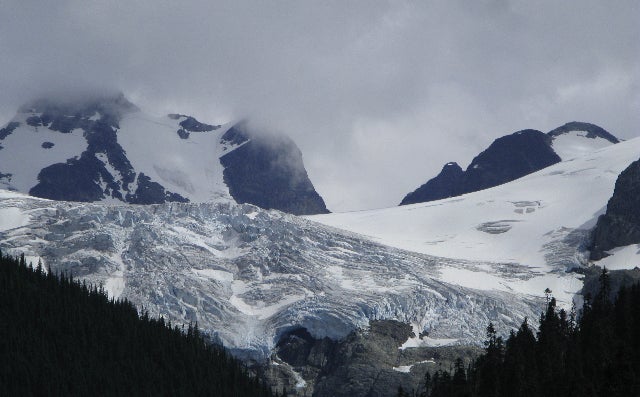 We were happy to reach the parking lot, now jammed with cars, and kick back with some cold Stella Artois and those potato chips we love so much. Plain ripple, of course, if you're keeping score, as I had no ketchup packets! Then, as now, it was a day worth remembering, and it had me planning future visits to Joffre Lakes Provincial Park.
But what of today? Despite the fact that this park faces many future challenges, it is still a wilderness worth preserving. In a world where outdoor recreation has reached record demand, there will have to be some well reasoned solutions so that it thrives. I'll discuss those potential answers in this story's next chapter, to follow soon…