Sometimes I ruminate on the passage of time. It's peculiar, in that that some things seem to take an eternity, and others seem to flash by like leaves in November wind.
At any rate, as time relates to this tale, it has now been nearly a year and a half since I moved from North Vancouver to Nanaimo. As much as I'm enjoying the island life so far, occasionally I still find myself reminiscing about places I've visited in the North Shore Mountains. Brunswick Mountain, for reasons I'll explain, comes to mind quite often! 
I'm fortunate enough to have a decent view of Brunswick from where I now live, in Nanaimo's north end. Clearly visible from Vancouver Island, the mountain appears as striking as ever, rising sharply out Howe Sound and the Salish Sea with its companions.   In keeping with the theme of the Britannia Range, its name is derived from British Naval sources. The HMS Brunswick was a 74 gun ship launched way back in 1790, and it was captained by John Harvey, whose name adorns one of Brunswick's closest neighbours.
Captain Richards named the mountain in 1859, but its first recorded ascent came thirty years later, in 1889. Dr Henry Bell-Irving, Sḵwxwú7mesh Chief Joe Capilano, and an unnamed native companion climbed the 1788m Brunswick and other peaks in the area on a hunting expedition. Back then, access to the Britannia Range was far more complicated, involving several days walking from Vancouver's North Shore through what is now the Capilano River watershed or an approach by boat from Howe Sound.
Today, access is a breeze, comparatively. It's just a reasonably short drive from Greater Vancouver to the village of Lions Bay. Since 2005, when I first climbed this mountain with Simon, I've managed to stand on the summit of Brunswick seven times. Why so often? Well, read on and I'll try to show you why I've come to love this peak so much!
It was a Monday in late May of 2010 when I parked at the trailhead in Lions Bay and began the long walk up the logging roads. To climb Brunswick Mountain requires a lengthy slog up those roads, and it seems even longer somehow when you don't have anyone to talk to, right? The weather was impeccable. Sun broke through the forest but the path was just shaded enough to keep me cool. My relentless stroll was only interrupted by a misstep that landed me a bit of a soaker in Magnesia Creek, but that also served as a bit of a wakeup call.
The trail was completely free of snow until the point it emerged from the trees just below the Howe Sound Crest Trail (HSCT) junction. It was there, when I broke out my ice axe and strapped on my crampons, that the fun really began! The snow slope was well shaded at first, and very unyielding.  As I climbed steadily,  my spikes bit reassuringly into the hard surface with each step, and I drove my axe with purpose, getting into a good rhythm. This being the spring season, there were a few sections melted out near rock faces that had to be negotiated carefully, but soon enough I found myself within reach of the ridge. Redoubling my effort, it was then a question of heading up toward the impossibly blue sky!
I preoccupied myself with trying to get a photo of the Lions, but they were enshrouded in Howe Sound's usual rolling fog at the time. At the crest of the ridge line, I then shifted my gaze to Mt Hanover, which looked resplendent in the morning light amid the clouds to the east. When snow remains on Brunswick, you must be mindful of cornices, so as usual I was extremely careful to keep well away from them! I made my way steadily to the summit ridge, opting to remove my crampons at that point, the snow being mostly melted off.
Somehow, I'd forgotten how much I'd enjoyed these views, though they certainly were not new to me. That aforementioned fog remained to the west, and a light but warm breeze escorted me as I followed the ridge upward. Better still, it occurred to me, this was also my birthday, and  about as good as a Monday could be!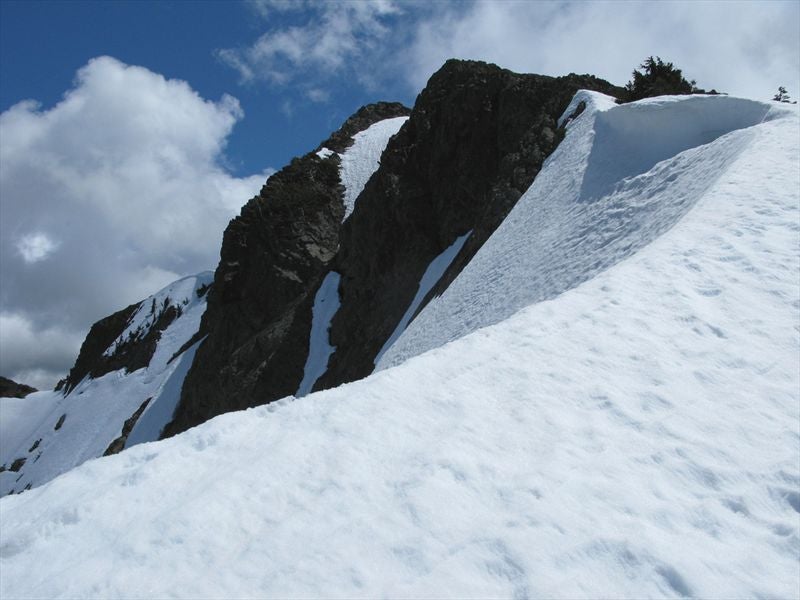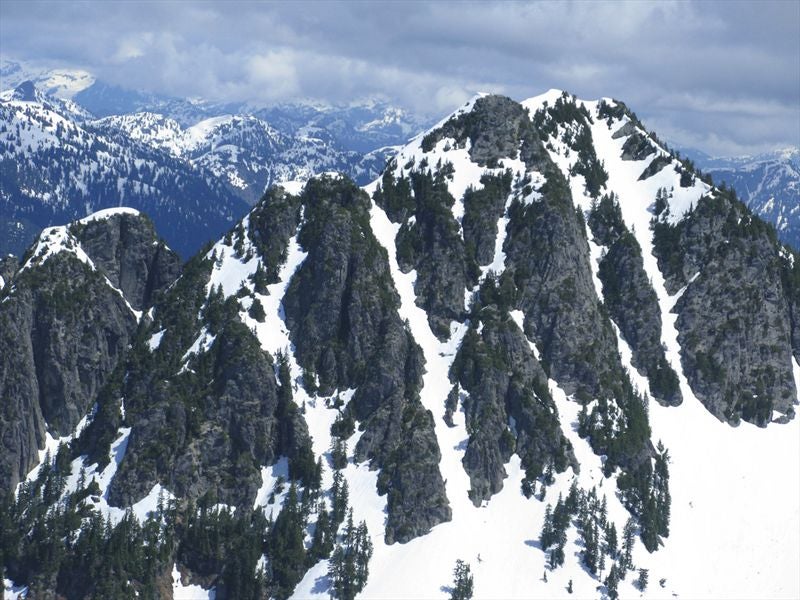 Next, I downclimbed a prominent gap, then continued on to a short traverse across more snow to regain the ridge. It's an easy stroll past the helipad to the summit cairn from that point onward. A well deserved rest was in order before beginning my descent. Well, that, and a few more photos!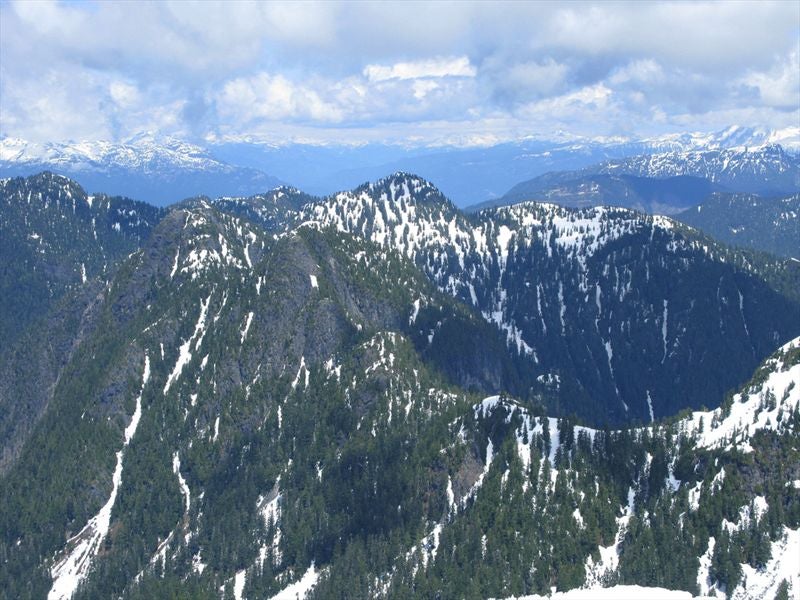 The descent, as it turned out, was somewhat easier, the snow having softened considerably. Due care had to be taken in particularly difficult spots simply by facing into the slope, while driving my axe solidly into the snow for support. Eventually, I regained the trail, and, inevitably, the dreaded logging road. Arrrgghh, the logging road! I did take some consolation in that The Lions made a brief appearance, at least.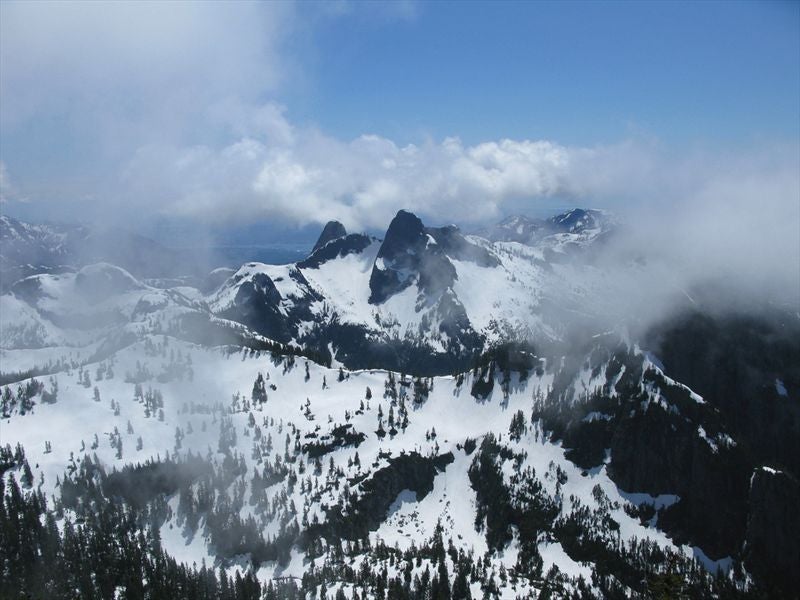 I ended up making it back to the truck that day in just under six hours, including plenty of time for loitering. Notably, once the snows melt away this hike can be typically be done a couple of hours faster, of course, and hey, if you're really into punishment you can even run the logging roads. However long it takes you, it will be well earned, as you will need to gain almost 1545m to attain the summit!
What is truly grand about this trek, in all seasons, is the way it gets you so high above Howe Sound. I'll leave you with an assortment of images from that very first climb there that Simon and I did in 2005. If you haven't yet acquainted yourself with Brunswick Mountain, I highly recommend it, and if you do, I'm certain you'll soon count it as an old friend!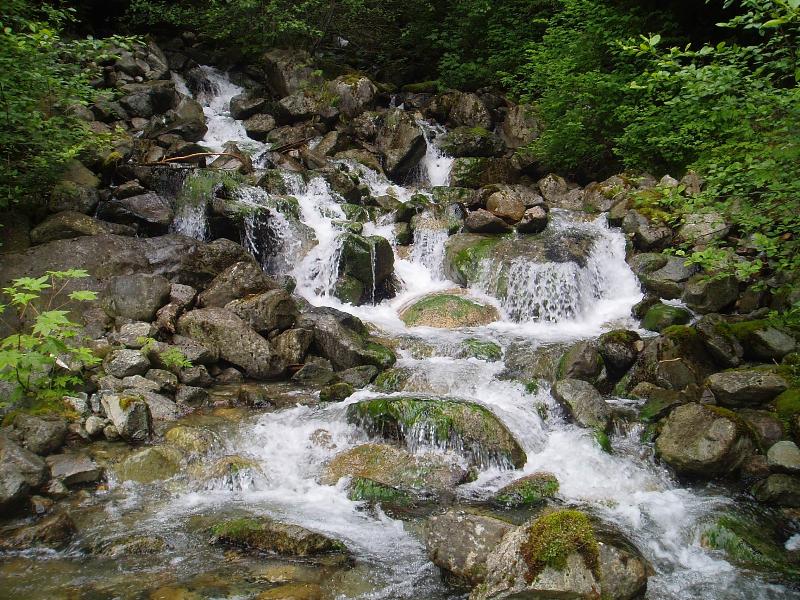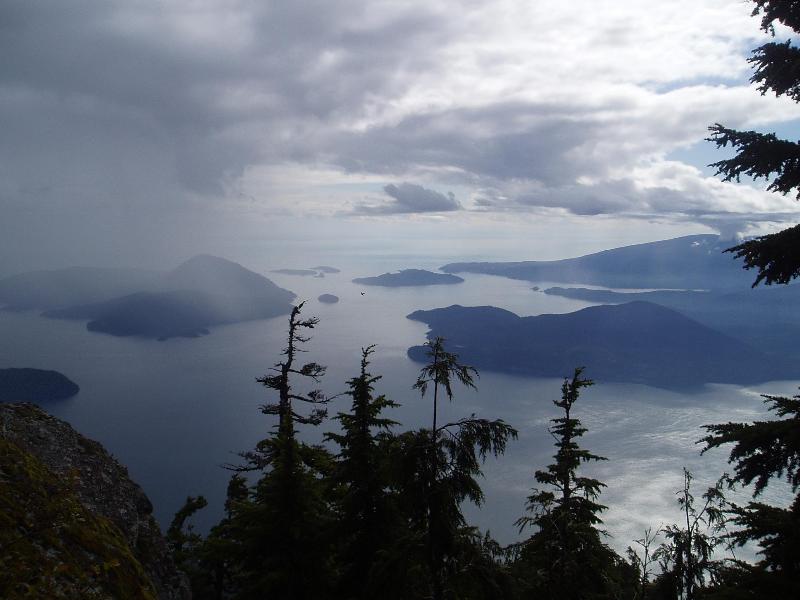 *******Author's Note*******
This is dedicated to the late Norm Strandebo, a friend of friends, who climbed Mt Brunswick 45 times, before passing due to heart problems over a decade ago. Berg Heil, Norm, now that's commitment!