Ben Lomond, to me, will never be just another mountain. Even from a distance, this sharp granite horn pierces the sky in a way that can only create a momentous first impression. The peak is located on the divide between the Seymour and Stawamus Rivers at the head of Clipper Creek, and this story, while it dates back some fourteen years, might as well have been yesterday in my mind.
In May of 2006, Simon Chesterton and I had viewed this iconic peak while we traversed nearby Chanter Ridge. I don't recall either of us discussing it at the time, but the conversation was probably unnecessary. That mountain, we knew, was Ben Lomond, and we were absolutely going to climb it one way or another!

Though most people I knew had never heard of this mountain, I'd been preoccupied with it for about a decade by then. I'd only seen it up close recently, and after all of the years I'd spent exploring the Seymour Valley, all I knew was that Ben Lomond formed part of the headwaters of the Seymour River. It was first ascended in 1908 by noted climbers Chapman, Gray, MacDonald, and Perry, who were very active in southwestern British Columbia. The mountain, in fact, borrows its familiar name from another located in the Scottish Highlands. The similarities, however, end there. Scotland's version is a relatively easy walkup in the southern Munros, just 974m in elevation. Our quarry looked considerably more challenging, and just getting to the mountain was going to require serious commitment!
Now it was the tenth of June, 2006, to be precise, in the midst of a long spell of unusually hot spring weather. Finally, the day had come to climb Ben Lomond, and we were ready.
Though Simon and I had managed Chanter Ridge very well, on this trip we we invited more people along. We put together a solid team of five, with Denis Blair, his son Alan, and Chris Hood also signing on for the mission! To get to the trailhead, our first order of business was to drive as far up the Furry Creek Road as we could manage, which turned out to be about eight kilometres. We knew, ultimately, that we'd have to access Ben More via a logging spur followed by some stiff bushwhacking.
We trudged the main logging road for about forty minutes before turning off on the road that we figured would get closest to our objective. On the way up, I spied a chute that looked like it might save us some time, so I convinced everyone to give it a go. It did not turn out to be the shortcut I had imagined, or as Simon quipped "Well, you know, no harm done. Nobody got hit by any of the falling rocks, Mick."
Across the valley, we could see the ramp on Chanter Ridge which Simon and I had descended the previous month, and the bottom of the fan where the avalanche remains were that day. It looked as though yet another slide had razed the area clean and what was left had subsequently melted. Nature's power is always to be respected!
Having walked as far as we could up the road, it was time to take to the bush. While the going was slow, there was ample time for everyone's comedy stylings to emerge. Denis led the way on that front. We all knew that on the Bivouac website, unofficial names such as Chanter, Bagpipe, Ben More, Ben Vorlich, and Ben Lui, had been assigned to some of the nearby peaks. This was supposed to be in keeping with the Scottish theme, with Ben Lomond and Loch Lomond being the only two official names. Thanks mostly to Denis, by the time this trip was over we'd heard about nearly every "Ben" there ever was! Ben Gay, Ben Kingsley, Ben Johnson, Ben Hogan, Ben Dover, and on and on and on… Chris and I chipped in our usual banter of continual Simpsons imitations, with Simon and Alan adding plenty of timely one liners. The clowning around kept us loose and had us forgetting the steep climb up the mountainside, which took some determination.
What happened next, at least for me, was not as much fun. We were about half way up the ridge when I felt something tear in my left hip. I'd injured it the previous November when hiking Clinker Peak in Garibaldi Provincial Park, but did not realize how serious the damage was. In retrospect, though, I might not have had the problem had I remembered to bring my trekking poles. At the same time, Chris was suffering considerably from the plantar fasciitis that had been plaguing him for over a year. Still, we remained optimistic, sometimes pain is just part of life in the mountains. So, on we trekked… Ben Gazzara, Ben Laden, Ben Affleck, Ben-jamin Moore, Ben-gal Tiger, Gentle Ben, Ben and Jerry…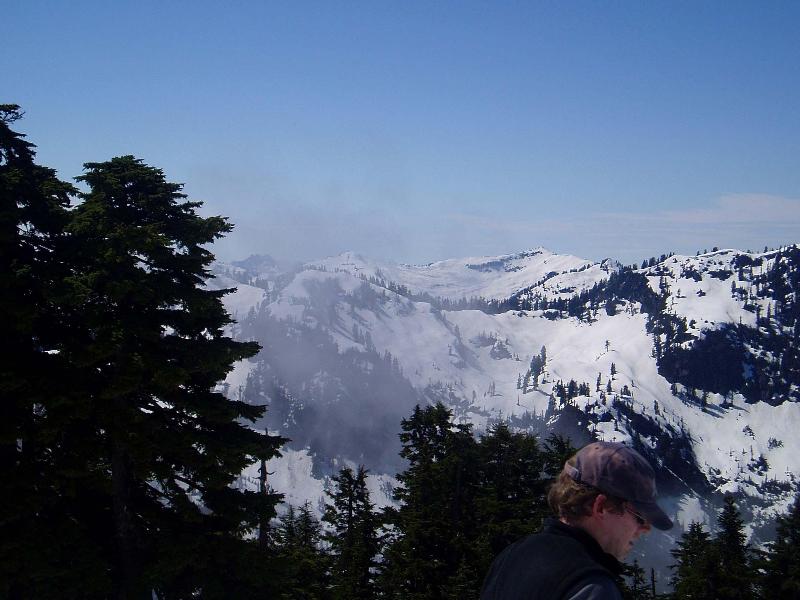 The next chapter of the climb was all about finding a way to Ben More's summit. While it looked fairly straightforward, things proved more precarious than we had thought, with a number of ledges, moats, and holes we took to calling "tiger traps" to negotiate. We were all, however, distracted by the stellar views!
Well, soon after we started climbing the first ramp and we all looked back on the views, it was obvious that we'd missed an ideal photo opportunity! This was in the form of a commanding lookout that Simon had already investigated several minutes before. Facetiously, Chris suggested Simon ought to head back there so we could all get a photo. No sooner had he said that, than off went Simon down the ramp. Neither Chris nor I were about to volunteer for that, as by then we were more than a little hobbled and thus trying to save our steps for Ben Lomond. No problem for Simon, though, who had plenty of energy that day!
Those shenanigans out of the way, it was on toward the peak of Ben More. We especially enjoyed seeing the ever present Sky Pilot Group. I believe, to this day, I remain the only one in our group who actually hasn't claimed its summit yet. Denis had climbed it numerous times, especially when the mountain had much easier access.
I soon could see the top of the slope, where Denis and Alan were taking a break, under cloudless blue skies. They had scouted the route ahead. It occurred to me that it must be immensely satisfying to be able to experience the mountains with your father, as Alan often has. Denis, for his part, is now into his seventh decade and still climbing in fine style. His trade secrets? Beer, plain or plain ripple chips, and plenty of exercise. Take from that what you will!

---
Meanwhile, Simon had swiftly reclimbed the ramp, and with the group together again, we worked our way through several rock passages. Soon, we found ourselves on the broad summit plateau of Ben More, and it was there that Ben Lomond finally came into view. From our vantage point, it looked even more dramatic than I had imagined!
I, for one, was glad to see an easier expanse of snow, as every step it felt as though someone was jabbing and twisting a dull knife into my hip. Somehow that didn't detract much from the moment, as days like these in the mountains are so easy to appreciate. Fortunately, Denis was able to share some ibuprofen tablets with Chris and me, which helped us considerably!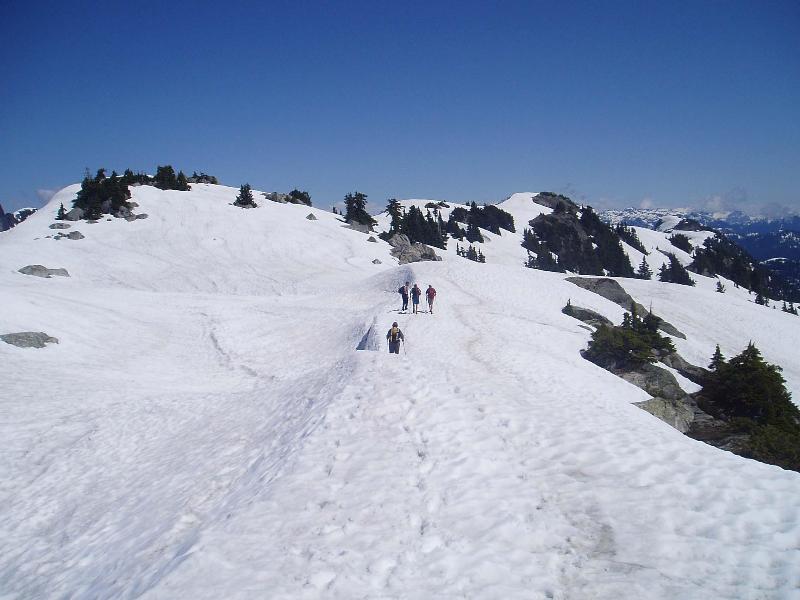 Ben More would clearly be an idyllic location to camp, as you can see from the pictures. There are panoramic views in every direction! Of course, that idea was far from our minds! We were already brainstorming the ideal route down into the saddle below Ben Lomond.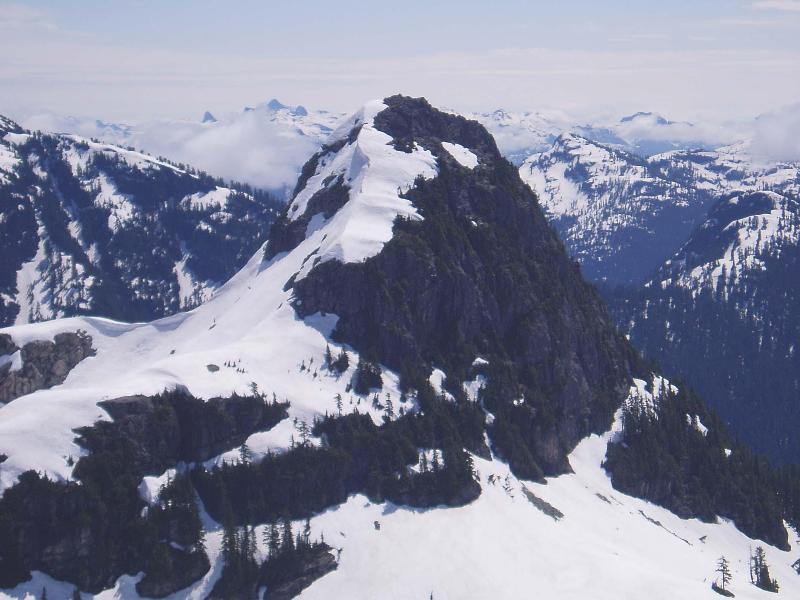 The ensuing quest to descend Ben More to that saddle was a stiff test of skills. Denis took the lead, but we all contributed our route finding thoughts as the going was again more complicated than we had expected. There was more bushwhacking, bridging of gaps, jumping, and sliding as we scrapped our way down. As before, there were several dangerous moats to avoid, including one so cavernous I could not see the bottom.
Ben Gurion, Ben Stiller, Benny Hill, Ben Franklin, Ben Savage, Ben Roethlisberger…we were definitely running out of Bens. I remember Alan, by far the youngest in our group, saying "Ben who? I don't know who half those guys are!"At one point, I may or may not have mimicked Michael Jackson singing the theme song from the movie "Ben". You know, the sequel to Willard, the movie about all the killer rats? I'd say you had to be there but since you weren't you never had to hear me sing!
That was followed by a careful glissade down another snow slope which would finally bring us to the saddle. It was also a very cautious exercise, as the runout into the valley below was sobering to look at. Somewhere on this slope I somehow lost my sunglasses, which is a dangerous thing to do on treks like this because your eyes need to be protected from the sun. Luckily, Chris kindly loaned me his fit over shades, which had me looking a little bit like Roy Orbison.
Once we'd attained that goal, it was simply a matter of following the connecting shelf over to Ben Lomond. While the terrain was reasonably easy to navigate, I found ascending the last hundred metres to the base of Ben Lomond really uncomfortable, but the scenery was certainly captivating!
The slope ahead looked steep, but the snow conditions were absolutely perfect, and the mountain waited quietly as the midday sun beat down on us. Our chances certainly looked promising as we geared up, finally breaking out our ice axes and strapping on our crampons.
So, did we summit Ben Lomond?
Truthfully, it all depends on who's answering that question! If you're up for it, join me for the conclusion of this story: A Bad Case of the Bens, Part Two, coming up soon right here. Same Bat time, same Bat channel!