It was an early evening in October of 2009 when the phone rang. On the other end of the line was Chris, and we soon found ourselves in the midst of a friendly debate over where we were planning on hiking the next day. I had my mind set on Coquihalla Mountain via the west ridge, having seen it the year before while climbing Jim Kelly Peak. Barring that, I was up for a return to Cypress Peak, or maybe Cloudburst Mountain. Out of the blue, Chris uttered "Have you ever heard of Hemionus Mountain?" "No, I have no idea where that is." "Well, I'm off to eat dinner right now, so while I do that you can look it up."
Without hesitation, I pulled my Fairley's Guide and began thumbing through the pages. Hemionus was a 2281m summit north of Pemberton on the Bridge-Lillooet Divide. The ridge leading to it was flanked by the Lillooet River on one side, and the sharp spires of the Railroad Group on the other. Across the valley were the volcanic peaks of Meager Creek, while a host of little known peaks like Spindrift, Blockhead, and Thiassi could be seen as well. So this was what Bruce Fairley called "North Creek and Vicinity"!
Our trek began, as so many do, in darkness, a prerequisite of any trip to the mountains if you hope to have any success. It was still early as we stopped in Pemberton at the local McDonald's to down a couple of Egg McMuffins, in an effort to kickstart our energy reserves. Morning soon came to the Pemberton Valley, greeting us with promising blue skies as we drove along the Lillooet River Road. Next came a sharp change of direction, as we turned eastward, working our way up a logging spur that can be driven to around 1300 metres in elevation.
On the Bivouac website, it is noted that Odocoileus Hemionus is the Latin name for the Coastal Mule Deer, which is native to the area. That might explain the name of mountain more than adequately, but Hemionus is also the specific name of Equus or Asinus Hemionus, also known as the Hemione, Dziggetai, or Half Ass. The latter might well have been a portent of things to come, ironically. The mountain waited until 1967 for its first recorded ascent, by two gentlemen named Lyon and Parke, and another named Karl Ricker, well known to both of us courtesy of local climbing lore. On that momentous occasion, they had sighted a deer above timberline, reportedly.
Rumour had it that one could themselves in subalpine territory after a mere hour of bushwhacking, and that turned out to be quite accurate. Even walking through the cut block at road's end before that wasn't too difficult. We had read a previous report by Steve Grant and Robin Tivy that also warned of hornets, but thankfully, cold weather and a recent snowfall seemed to have quashed any such devils!
Soon enough, we were looking at a dizzying drop into the valley below, and a gnarly defile that had been the victim of repeated slides. Deep within that valley, to the east, lies a roughly hewn trail that leads to a BCMC ski cabin at the head of North Creek. That path is so choked by vegetation that it sees only sporadic use, and the area is generally accessed by helicopter during the winter. We wouldn't need to battle that kind of shrubbery, however, since the route we had chosen was smooth sailing by comparison!
The ridge was open and inviting, as we hiked steadily upward. There seemed little reason to rush, as we gazed upon the peaks around us, stopping occasionally to take it all in. The only peak I had climbed in the area was Locomotive Mountain, which remained just out of sight behind the outliers of the Railroad Group. It also dawned on me that we'd have front row seats to watch a volcanic eruption, if one were to happen that day. Rumour had it that Mt Meager had been showing more signs of activity, so we did have that thought in the back of our minds.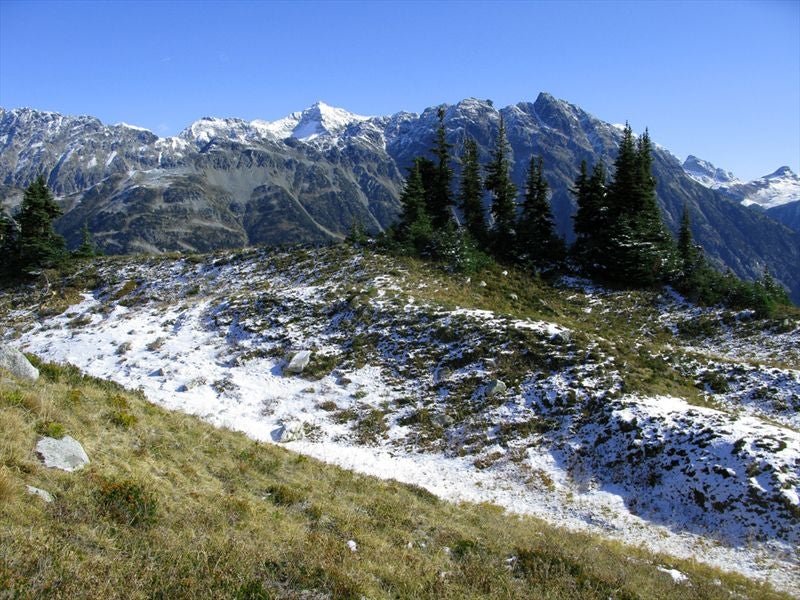 Some careful manoeuvring to the centre of the ridge ended our route finding for the time being, and all that was really left to do was to continue hiking and savour the views. To add to the sense of mystery, we had forgotten to bring the map, which was left in the truck, and neither of us had brought a GPS device. Not that we needed either for navigation, but for peak identification it would have been helpful. Oddly enough, the privilege of this ridge walk had come effortlessly, and taking photos had become somewhat more important than our ultimate destination. It was as though gazing upon the remoteness of this range seemed adequate, at least for the moment. Resolutely, near a sub summit of about 7100 feet, according to some nearby survey markers, the two of us sat down for lunch.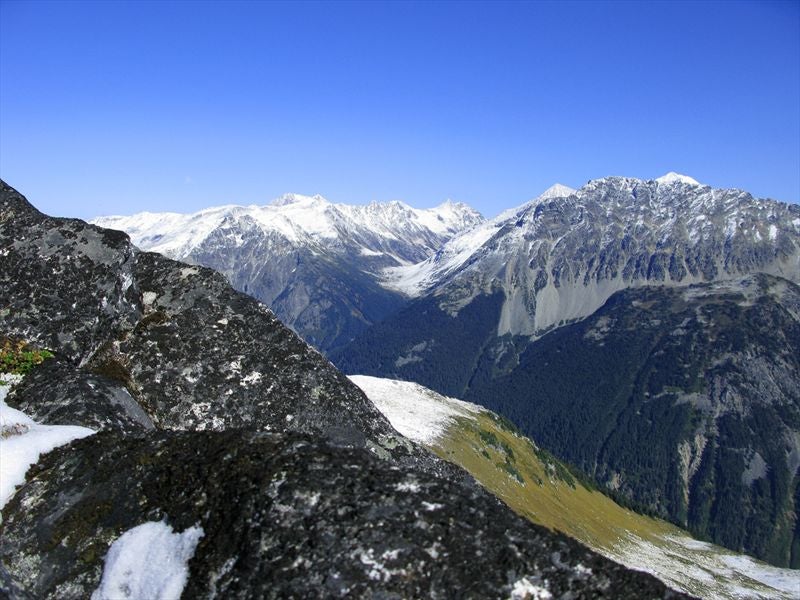 We probably should never have stopped! Even our usual level of wacky running commentary seemed toned down, and that was followed by some moments of relative silence. Well, okay, maybe thats an exaggeration! Still, the silvery strands of the Lillooet River shone radiantly below, with the Overseer and Meager Groups towering to our left. With Sampson and company and a distant Mt Thiassi on our right, it seemed all we could ask for! Straight ahead were two peaks; a rocky summit only half an hour away that we surmised was the summit of Hemionus, and a snowclad peak well beyond, which we turned out to be Sugus Mountain. It was at this point I realized just how tired I really was, having hardly slept over the past week, and Chris looked similarly subdued.
Satisfied that the summit was a bit too far away for our liking to attain, even if that was far from the truth, we lingered in the shadow of those peaks. An icy breeze blew across our rocky perch, and the skies were amazingly clear in all directions. New destinations were plotted with every other glance. There was more loitering as we admired the endless views, and I even nodded off several times. I generally don't find myself so relaxed and unmotivated in the mountains, but undeniably, I was overcome with a strange sense of calm, and Chris found himself equally sated. To this day, I can't say I've ever duplicated the way I felt that day. It was, I suppose, somehow meant to be. Anyway, that's my story, and I'm sticking to it!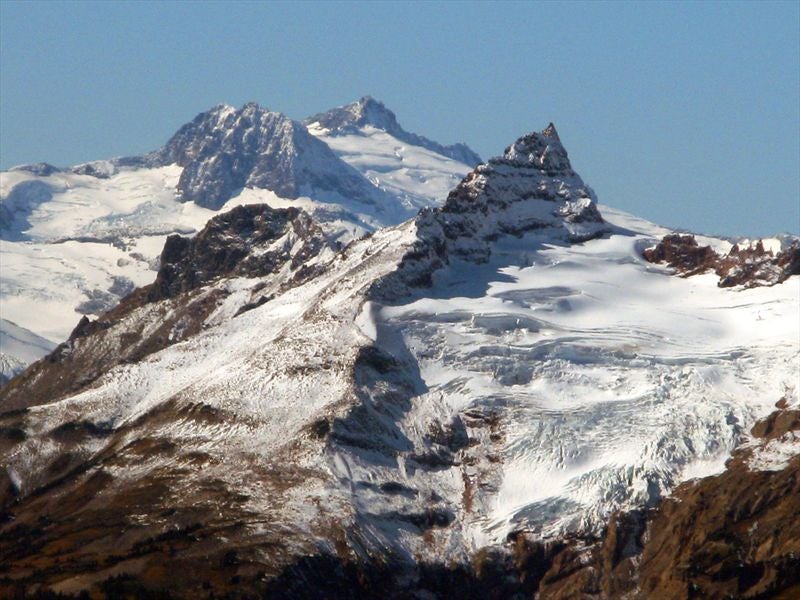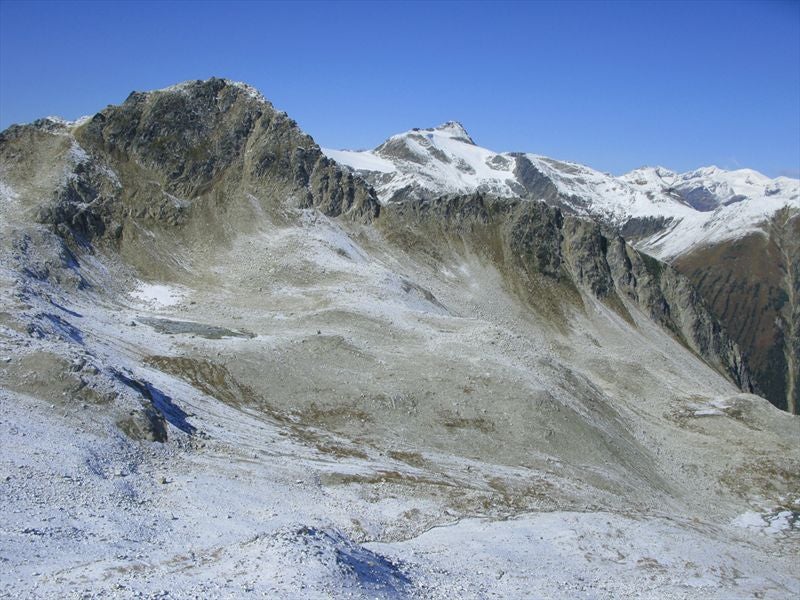 After another brief interlude, we easily descended the ridge. It was as pleasant a walk as could be, after all, we were walking downhill! Better still, the same views were there to keep us company.
Once back at the truck, maps were consulted, and some more identifications made, though part of us mused that perhaps we should have persisted and carried on. In the end, my conclusion was that sometimes it makes no difference where you get to, it only matters where you are! We sat quietly, crunching away on Old Dutch sour cream and onion ripple chips, inspired to return someday, something neither of us has managed to do just yet. North Creek and Vicinity, though, lives on in my dreams, inspiring as ever!
When I first told the story of this day, more than a few of my friends were incredulous. Some were wont to ask why we didn't push onward, especially considering the long drive it takes to get there. While I just didn't have a conclusive answer, I still look back happily on this trek.
Now, had we been properly prepared and motivated, there was indeed plenty more we could have accomplished in this valley. Our good friend Simon, for example, heard of our travels here and he and Vlad eventually managed to put together an excellent trip in which they climbed many of the summits we had glimpsed. To read about that, just click
here