It was the spring of 2004, and I was poring over an old Western Canada Wilderness Committee (WCWC) map when four simple words caught my eye: Owl and Talon Creek. The name alone sounded intriguing enough, but there was also a grove of trees there called the Pipe Organ Firs. Recently, I'd had the chance to meet Ralf Kelman, perhaps  British Columbia's most established tree hunter, and he had told me of the trees in the Seymour River Valley which he had rediscovered.  Owl and Talon Creek, he said, was not to be missed. The Douglas firs there were as straight, true, and tall as any he had seen. One in particular, the Will Koop Giant, was nearly eight feet in diameter and over five centuries old! Then, he added, with a smile, "There's an incredible canyon there that you need to see!"
In order to locate the "trail", you have to make your way to just past the 7 km mark on the Seymour Valley Trailway, after a bridge over the creek. Generally speaking, I almost always take my bike when exploring the valley because that way you can save yourself a lot of time. These days, there isn't much to distinguish the trailhead other than the remains of a fair sized cedar stump. If you can find the old flagging tape, it will lead you westward about a hundred metres before turning left and swinging  southward toward Pipe Organ Grove.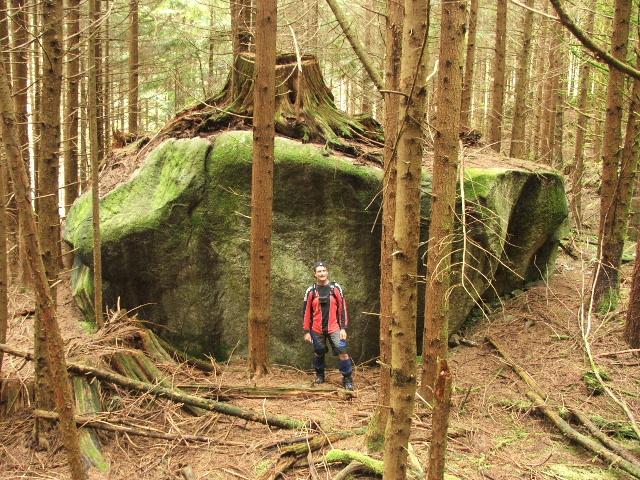 Will Koop, notably, was a key figure in the conservation history of the Greater Vancouver watersheds. He was involved in an organization called SPEC, or Society Promoting Environmental Conservation. His  crucial role as a watchdog, exposed the activities that were taking place in what was then called the Seymour Demonstration Forest, as well as in the Capilano and Seymour Watersheds. Koop was particularly concerned that timber harvesting was endangering Vancouver's water supply. Since the watersheds had long been off limits to the general public, much of this occurred out of sight, out of mind.  I have distinct memories of regularly seeing logging trucks loaded with old growth timber on the old Seymour Mainline back in the 1980s and early 1990s, for example. In the end, Will's efforts, along with those of Ralf Kelman and the WCWC, paid off. Logging was officially banned in the watersheds in 1999, though it actually ceased a couple of years before that. The former Seymour Demonstration Forest, now controlled by the Greater Vancouver Regional District (GVRD), has changed not only in philosophy, but in name as well. It is now known as the Lower Seymour Conservation Reserve, or LSCR. The forests of the Seymour Valley are thankfully fully protected!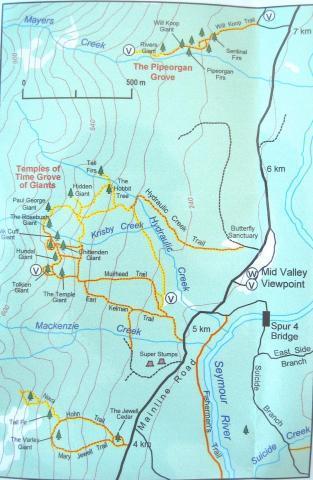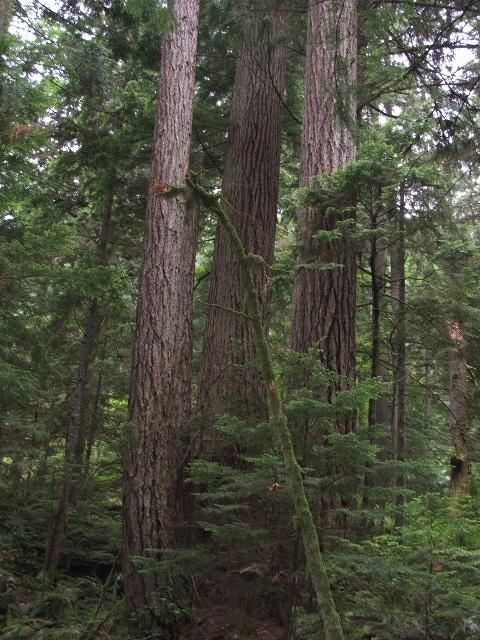 The Pipe Organ Grove is a truly remarkable group of Douglas firs, notable especially for their height. Firs like these become tall first, before attaining girth, relatively speaking. Many giants have reached over 250 feet tall, at ages of less than four hundred years. During the age of harvest, this valley was targeted for its massive Western red cedars, and that may explain why the firs here escaped the saws of twentieth century logging. Kelman refers to these trees as "the next generation of super firs", and it wasn't that long ago that 300 foot firs were commonplace in the North Shore Mountains. Indeed, there are reports that a 400 foot tree was cut in neighbouring Lynn Valley's Hastings Creek at the turn of the last century. Imagine that grandeur!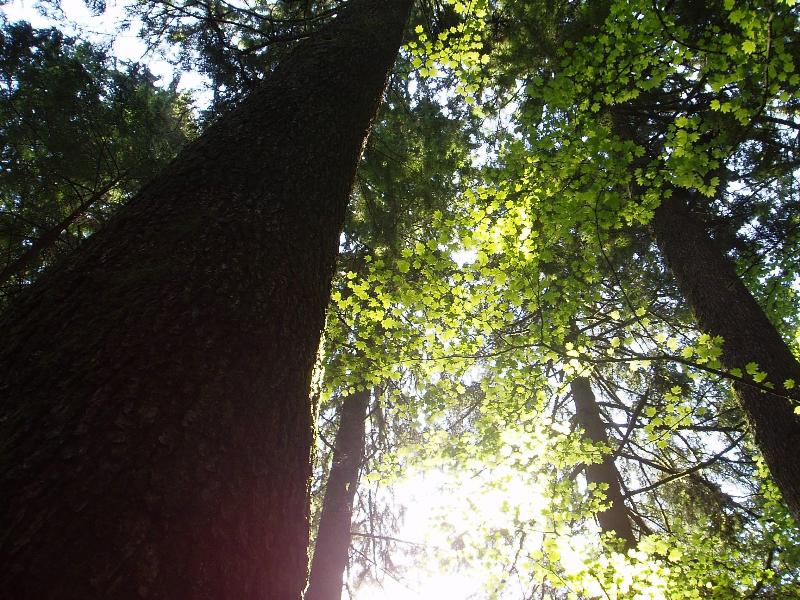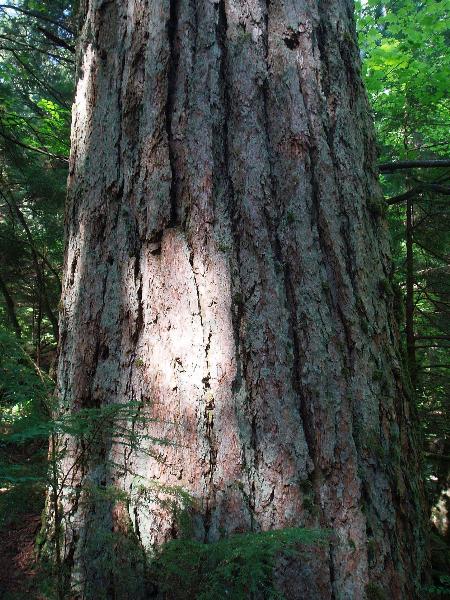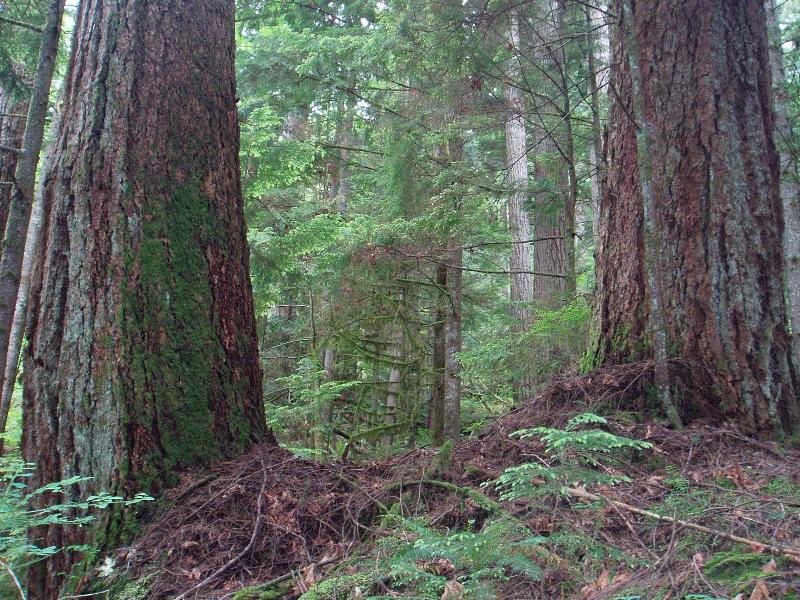 The Will Koop Giant is a story unto itself. I have had the fortune to see it frequently while it was still standing, but unfortunately, it was toppled in a storm sometime between 2007 and 2009.  In a sad twist of irony, it seemed nearly as spectacular laying on the forest floor as it was when it was alive. I visited the fallen giant several years ago with Steve McKenzie, and we took turns walking the entire length of the trunk. It had created an expansive clearing in the forest! Yes, it was sobering to see this tree on the ground, but at least there was the consolation that it had given itself completely to the soil, completing its cycle of life.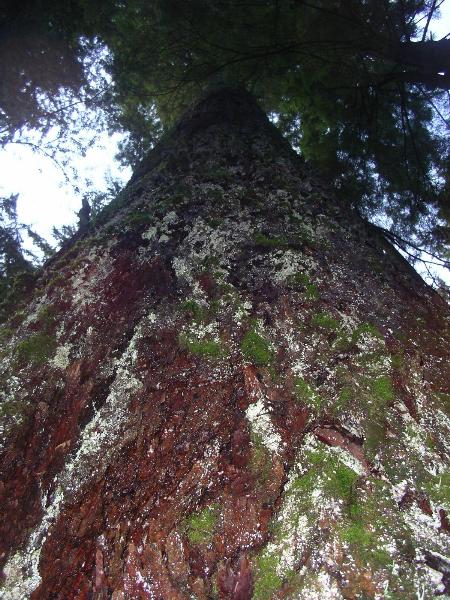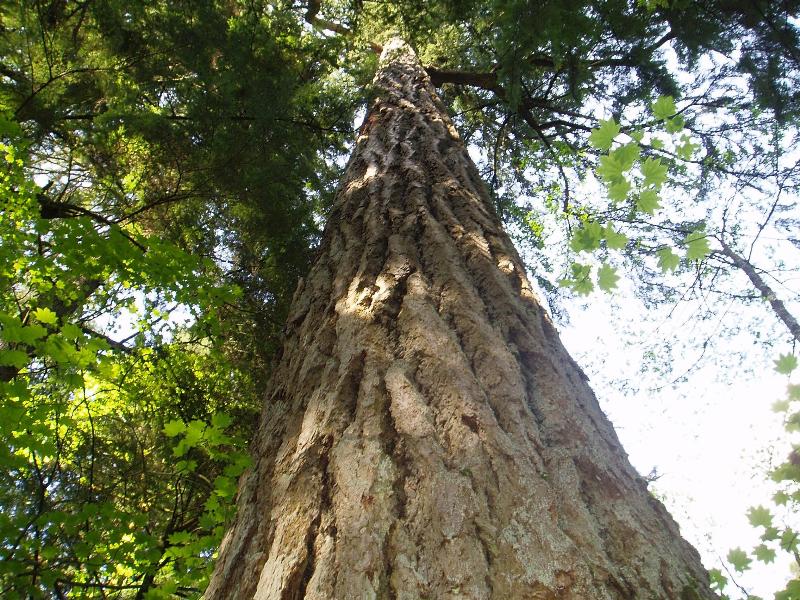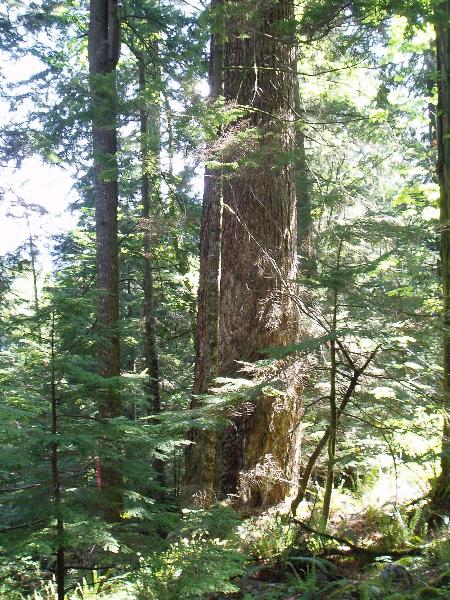 Once you're satisfied you've seen all of the trees in the Pipe Organ Grove, then you're ready to explore the upper reaches of Owl and Talon Creek. All that you need to do is locate the main tributary, just south of the grove, and follow it carefully upward. It will eventually lead you to an unexpected wonder, none other than  a steep sided box canyon guarded by intimidating cliffs directly below The Needles! It's best to undertake this part of the hike only if you have strong fitness, as you'll be scrambling up steep and uneven ground.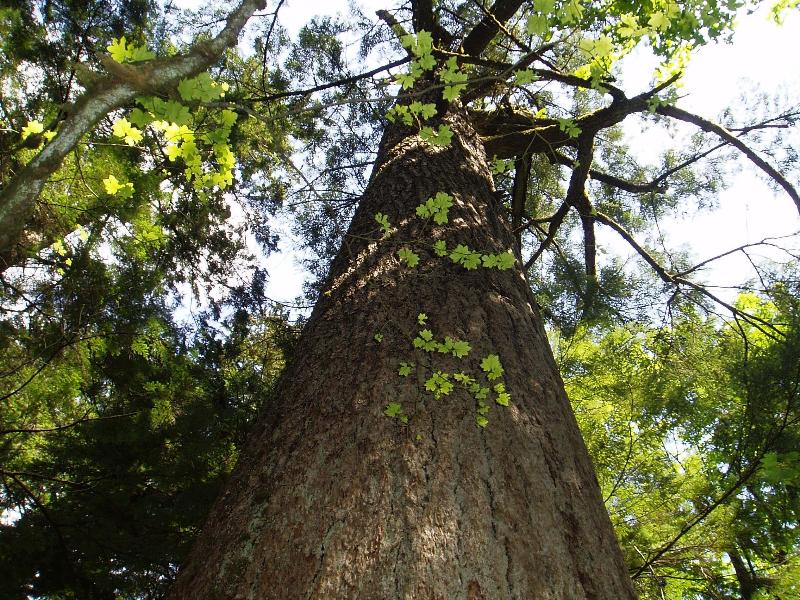 Curiously, you will not see any water, at least initially, in the boulder strewn channel of the creek. The water is there, but it flows subterranean beneath the rocks, not uncommon in the steep drainages of the North Shore Mountains. The rock itself is largely granitic, and much of it has calved off the cliffs above, coming to rest in the canyon below.
Evidence of wildlife seems to be everywhere in this valley. The animals I have sighted are deer, black bears, Douglas squirrels, Downy woodpeckers, a Pacific water shrew, and a pine marten. Occasionally I have seen the signs mountain lions in the upper canyon. If you're fortunate, you may hear the chattering of eagles in the treetops above, or the calls of ravens, as both are common to the area. You might also expect to see a barred owl there, befitting the creek's name.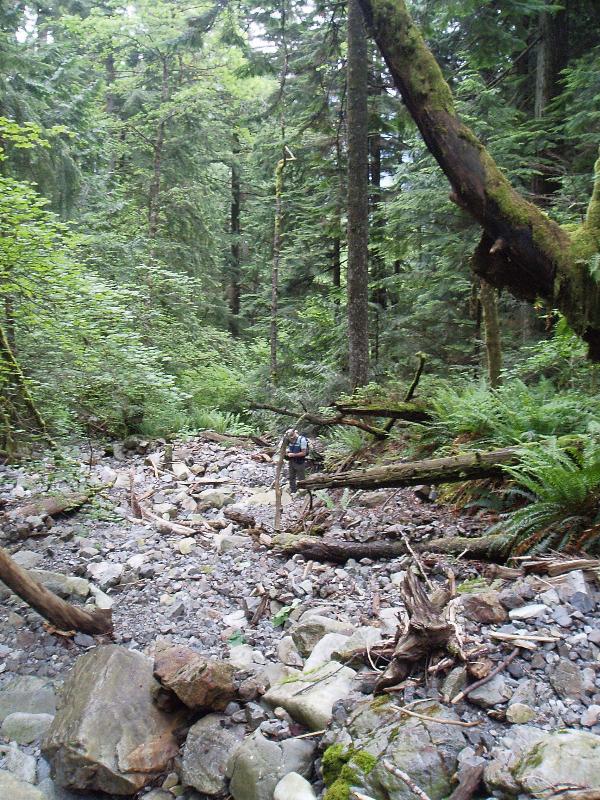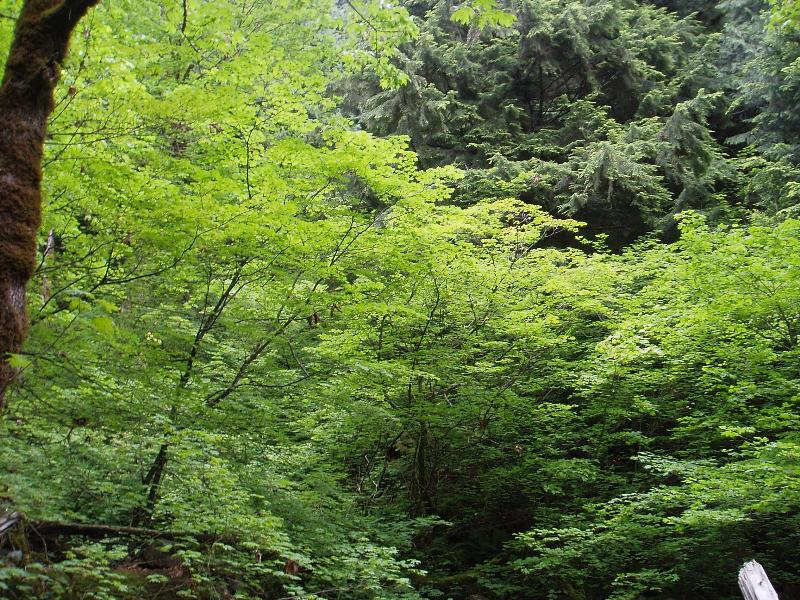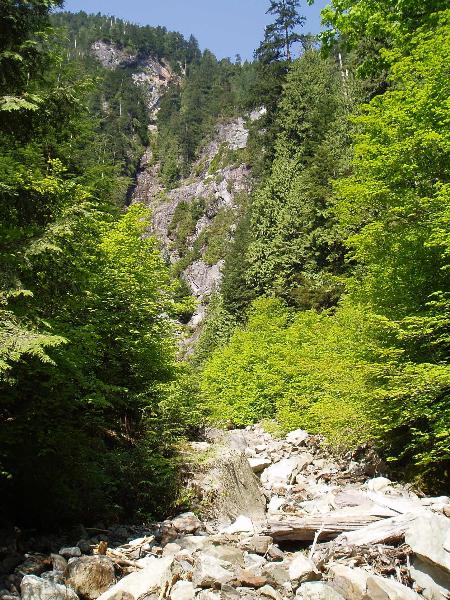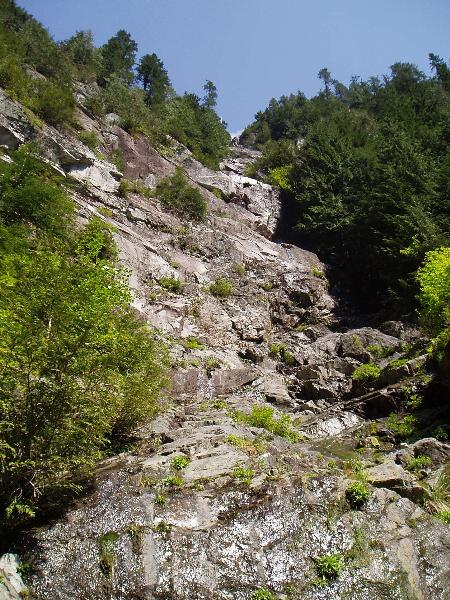 Should you decide to climb higher, to the cliffs above, you'll notice a change as you gain elevation. Almost suddenly, you can hear the sounds of running water beneath the creek bed, and soon pools of crystal clear water and tiny cascades will emerge. The canyon is lined with abundant foliage, and looking upward, the sight of the granite walls is somewhat intimidating. In short order, you'll reach the site of a break in the cliffs where a modest waterfall sprays down the rock face.
Once you've climbed your way into this seldom seen gulch, you'll quickly appreciate that you're in a rarified company. In all my exploration of the North Shore Mountains, I've never come across anything quite like this canyon! Amongst the granite, there are wildflowers one usually sees at higher elevations, and a number of uncommon ferns also grow there. It's clear that the geological forces that fashioned Owl and Talon Canyon are still very much alive and well, and you will most assuredly get the message that it's not a place you want to be during extreme weather!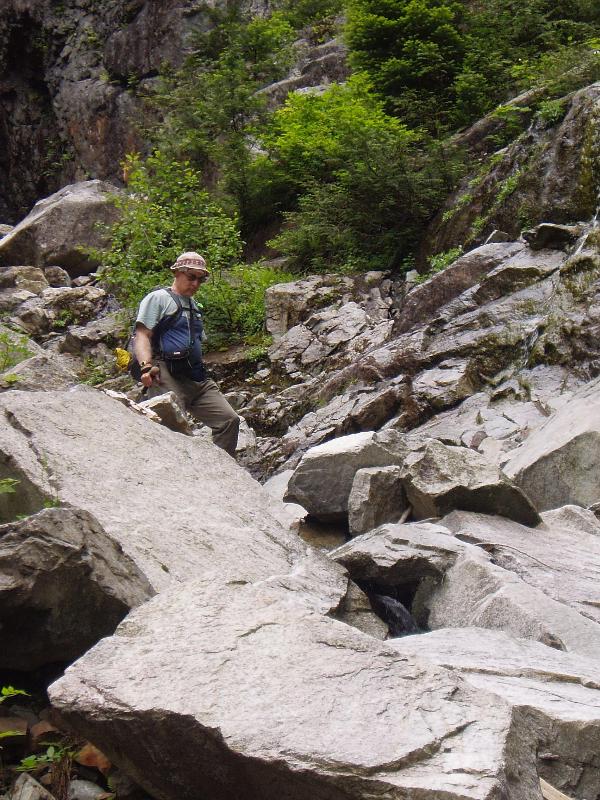 Steve had brought along a pair of hammocks, and after we walked the canyon, we set them up right below the Pipe Organ Grove, just to wile away another hour or so. It occurred to me at the time that as much as I had explored the this grove,  I'd seldom taken the time to linger there.  We spent those minutes staring at the treetops and listening to the calls of birds. I remember thinking that this would always be a place I'd never fully leave, for a piece of my heart would always be there. It's my belief that that nature provides opportunities like these every day, and that I  only wish that everyone would be fortunate enough to realize the importance they present. It is time spent in nature that has the power to rejuvenate us, and enriches our souls in ways we don't completely comprehend. Those moments are among life's greatest rewards!
*******Author's Note*******
I hope that by sharing this story, many others might have the chance to explore this truly idyllic place. To be honest, it was my belief for a number of years that perhaps it was too fragile for me to publicize its existence. As time has moved on, my feelings have changed. It would be a shame if others never had the opportunity to experience Owl and Talon Creek, and see it as I have. I simply ask, should you choose to visit, that you leave absolutely no trace when you depart. It is a unique and rugged landscape, yet it's also equally vulnerable, so please treat it with the utmost respect. I also recommend wearing a climbing helmet, due to the risk of rock slides (on my early excursions I didn't, and I now acknowledge that not doing so was an unnecessary risk). Be mindful and prepared, as this is a true wilderness experience!