The wheels of Chris's Jeep Cherokee bucked back and forth with a most ungainly rhythm as we drove up Squamish Valley's BR 200 logging spur. Our destination, Tricouni Peak, awaited us at the head of High Falls Creek, high on the Squamish-Cheakamus Divide. Chris had visited the mountain several times over the years, without having made an attempt on the summit. I, on the other hand, had only  sized it up from the summit of Cloudburst Mountain the year before. Now it was September of 2008, and we were finally going to give it a go!
The road soon became too rough to drive, but by then that didn't really matter, as we were only about 150 metres from the trailhead. A short stroll sound then brought us to the trail, which enjoys a notorious reputation as one of the muddiest in the province. It truly deserves that descriptor, and if it weren't for the fact that the two of us kind of enjoy muck and mire, it might even have been annoying! Building about three kilometres of boardwalk on that section of the trail might solve a lot of problems, as considerable erosion has already befallen this beautiful subalpine meadow.
Most notably, Tricouni Meadows also boasts a surprising array of wildflowers. It's one of the best floral displays I've ever seen in the Coast Mountains, and for that reason alone, it's worth waiting until at least August to plan your visit there.
Though there had been recent rain, the skies were mostly blue as we worked our way up to Kathryn Lake. It's the first of three lakes you will encounter en route, and the only one with an official name. It is here that the summit of Tricouni reveals itself, albeit from a distance, and spectacular views appear in every direction. Since there was no real reason to rush, we hung out at the lake for a while before resuming the climb.
In another fifteen minutes we were on our way again. A relatively brief sojourn brought us to the second lake, where the views expanded further! It was at this point that the trek became a little more challenging, requiring us to hop through creek channels and traverse a steep hillside to attain a massive talus slope. This boulder field would eventually give us passage to the uppermost lake. The hike had a way of building your expectations, revealing its character a little at a time, as you steadily gained elevation.
As luck would have it, the third lake would prove to be the jewel in the crown, sitting as it does below the summit towers of Tricouni. Its waters are an incredible shade of blue green, surrounded by rock and wildflowers. When we were there, Penstemon, Sitka Valerian, Lupine, and Arnica were all in bloom. Even the mosquitoes had all but abandoned the valley, which was fine by us!
We could not clearly see the path that had to be taken to the ridge above, but we knew it was there. First, we would be crossing a heather filled meadow replete with stunted alpine trees, and then it was on to a steep scree slope. In winter and spring conditions, this is the crux of the route, as it's a steep pitch of hardened snow in those seasons. In our case, it was just a steady plod upward on shifting rock, but we managed it fairly well. On our way uphill, I heard the whistling of a marmot. Chris managed to spot him for a moment, but the elusive rodent easily eluded our cameras. Yes, that's right, those oversized ground squirrels, which weigh anywhere from seven to sixteen pounds, are rodents!
The sun had seemingly disappeared for the better part of an hour, but now suddenly it returned, reminding me I'd forgotten my sunglasses. No matter, really, for we were both highly distracted by scenes of the nearby Ashlu-Elaho Divide and the Tantalus Range. Soon we were walking on the ridge and discussing the ideal route over to the summit block. It was then that clouds began to build, and we were well aware of the afternoon thunderstorms this valley sometimes sees. It was time to pick up the pace a little!
We crossed one last field of snow, and began hiking toward the summit. Unfortunately, that meant descending off the ridge we were on, crossing a draw, and then clambering onto another ridge two hundred metres away. In the process, we had to lose and regain a couple hundred metres of elevation.
In subsequent years I've described the next part of the climb as relatively straightforward, but some of my friends who've tried it tend to disagree. Whatever the case, we found it presented few problems at the time. Once we attained the ridge, several lines up to the jagged summit could be seen, and we chose one just to the left of centre, I believe. There is certainly some exposure to be concerned about, but we didn't find danger too hard to avoid.
In another fifteen minutes, with Chris in the lead, we had made the summit, at 2122 metres in elevation. It had taken us about three and a half hours to get there. Curiously, there were two summit cairns, so for fun we each tagged them both! Many of the views we'd hoped to enjoy were obscured, and the weather had begun to look more uncertain. Tricouni, by the way, was first climbed in 1931 by a party of three listed as J.Cherry, H.Wynne, and T. Fyles. The latter would be none other than legendary British Columbia climber Tom Fyles, also known as The Climbing Postman.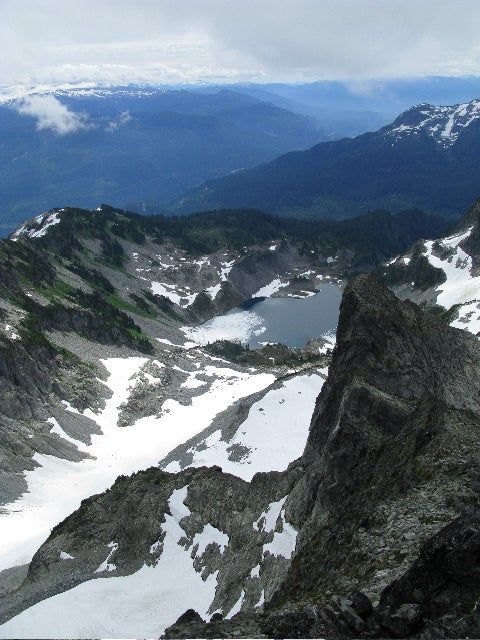 Since there was little or no room at the top, we walked back down the ridge and stopped to eat lunch. We quickly downed the Snickers bars I had brought, and drank some much needed water. Chris's wife Audrey had also made us some outstanding roast beef sandwiches, and let's just say that a dozen years later I'm still thankful for those!
By this time, however, the weather gods decided they'd had about enough of us, and darkening clouds were soon to change the mood. For the second time in the past several weeks, we were once again on the run from a thunderstorm! We were preparing for the worst but hoping for the best as we dropped off the ridge and recrossed the draw. It took us less than half an hour to get within sight of the upper lake once again.
On the snowier patches, we saved time by glissading as much as possible. Chris always warns me that lightning tends to follow him around, and soon I could conclude that thunder seemed to like him a lot too! Next came another series of glissades and much scree slamming back down to the third lake, just as the rain began to fall lightly. I felt reluctant to leave such an idyllic place so quickly, but sometimes when the mountain speaks, you'd better listen! All joking aside, carrying aluminum hiking poles on a mountaintop in a potential electrical storm is not high on my fun list, so a hasty retreat was certainly in order!
Of course, never let it be said that Mother Nature doesn't have a sense of humour. Just as we arrived down at the third lake again, the storm seemed to shift its potential fury in another direction. All we endured was about ten minutes of very mild rain, while the darkness and thunder drifted over toward Cloudburst Mountain, befitting its name.
Half an hour later, we were back at Kathryn Lake once more, psyching ourselves for the  second mud run of the day! It had been a highly satisfying outing, and just under six hours had passed by the time we had returned to the Jeep. The journey down the logging roads and back to the North Shore featured several eagles and somewhat brightening skies. It was all we could have asked for, and more. Tricouni did not disappoint!