Mountain trips in September are compelling, when you time them correctly. As summer struggles to fend off the inevitable arrival of autumn, the stage is set for a unique experience, assuming the weather  cooperates. High in the heart of the Lillooet Ranges, nearly a decade ago, that was certainly the case when we visited Downton Creek. The principles? Me, Doug, and his son Brendon. We left North Vancouver at the leisurely time of 830 am and drove north on Highway 99, with the hopes of climbing Peak 8700, sometimes known as Statimcets Peak.
It was over four hours later when we finally reached the turnoff for Downton Branch 2, which would lead us to our destination. Despite Doug's valiant attempt at tackling the road, the first water bar proved to be too challenging for his trusty Ford Explorer, and so we resigned ourselves to walking the road.
Lunch was the first on the agenda as we laid out and packed all the necessary gear, but soon enough we were on our way. The heat of midday arrived in full force as we gained the first few hundred metres of elevation on the old logging spur. It always takes a while to get accustomed to shouldering heavy packs loaded with overnight gear, but a mere half an hour of hiking had us at the trailhead.
The Downton Creek Trail had been constructed some twenty years before by the British Columbia Forest Service (BCFS), and had already seen considerable use by the time we visited. The well worn and clearly marked path winds its way through an old cut block before it briefly enters an old growth forest, then it emerges into open stand of whitebark pine.
It's no exaggeration to say that every step brought us more anticipation that day. Soon we found ourselves in a broad subalpine basin, as the track led us to  Holly Lake, where no such namesake trees exist. The lake itself is most spectacular, set below jagged ridges on all sides!
Once you depart the lake, the route becomes somewhat indistinct, though your direction seems obvious. We made the mistake of thrashing about off trail in a meadow filled with  stunted subalpine trees. Known to many as krummholz, said twisted trees tend to give rise to considerable frustration and or frequent outbursts of foul language. Stay near the lakeshore, as the correct route ends up following a small creek and will easily lead you into the alpine. Shortly thereafter, we found ourselves among many tarns and huge granite blocks. Almost suddenly, Linus Peak and Faulty Tower appeared, and countless unnamed summits beckoned in all directions!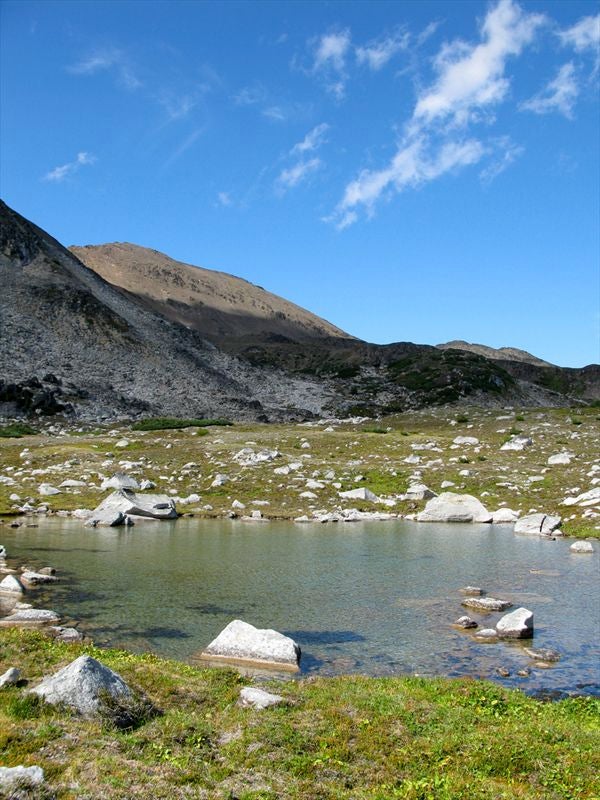 The whistling of marmots occasionally sounded, and we did see one lounging on a sun warmed rock. What was conspicuously absent, however, was the mosquito population! Downton Creek, you see, has a well earned reputation for its lively insect pests, making a late season trip something you should strongly consider. Those colder nights of late summer tend to put a stop to their activity, and the only bugs we encountered were several very persistent horseflies.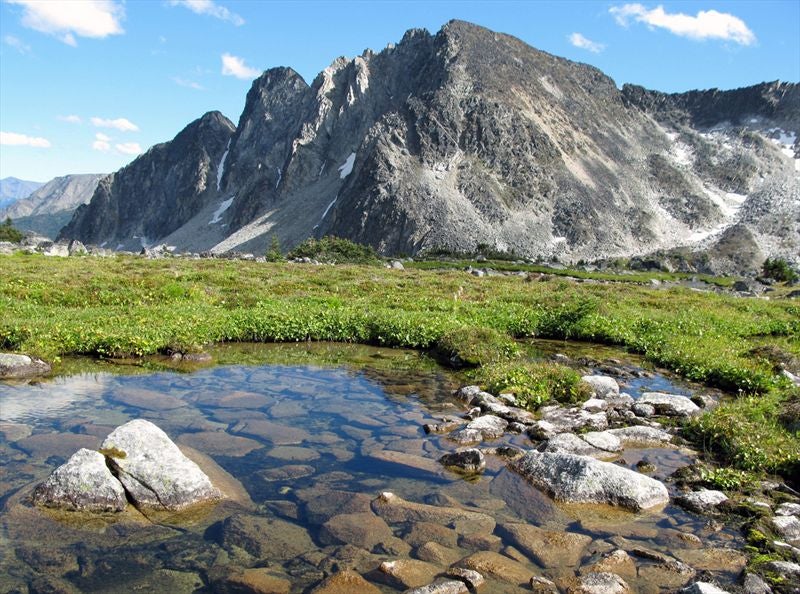 We pressed onward, as our plan was to camp in the higher basin just below Peak 8700,  north of Linus Peak, where there was a small lake that was described in Matt Gunn's Scrambles in Southwest British Columbia. Ideally, we could then set up camp in an area supposedly less susceptible to the evening winds the valley is also noted for, with the added benefit of a closer water supply.
Matt's directions were on point, as usual, and the lake even had a handy snowbank that would serve as a cooler for the six pack of beers I'd carried up. Those reputed winds made their presence felt as we arrived. We had to gather round just to keep the stove going while Doug cooked an early dinner, but in time we were enjoying a well earned feast!
After sorting out equipment and lightening our packs, we set off to climb Peak 8700 by way of the east ridge. Luckily, we had decided to change into wind layers and long pants beforehand, as the air cooled noticeably while evening set in. Clouds shone brightly as we traipsed up loose rock and scree toward the summit. On the way, Brendon discovered a rock ptarmigan which we watched for a while, amazed at its ability to stay motionless. Minutes later, there was no higher to climb, as Brendon led us to the summit. Though just eighteen at the time, it wasn't exactly his first ascent in the Coast Mountains. He'd already climbed Pelops and Niobe in the Tantalus Range two years earlier.
I wouldn't say we overstayed our welcome, but we did hang out for a while to enjoy the sea of mountains visible from our wind blasted perch. We had now risen above Linus Peak, Faulty Tower and much of the rest of Downton Creek Valley. I wish I had known half of the peaks we were looking at, most of which are actually unnamed, but that didn't seem to matter too much. We could see the mountains of the Gott Creek area, Lost Valley Creek, and most notably Joffre and Matier in the distance. Peak 8700, 2643 metres high, was a breathtaking place to be. We ate chocolate, and took countless photos before finally heading back to camp.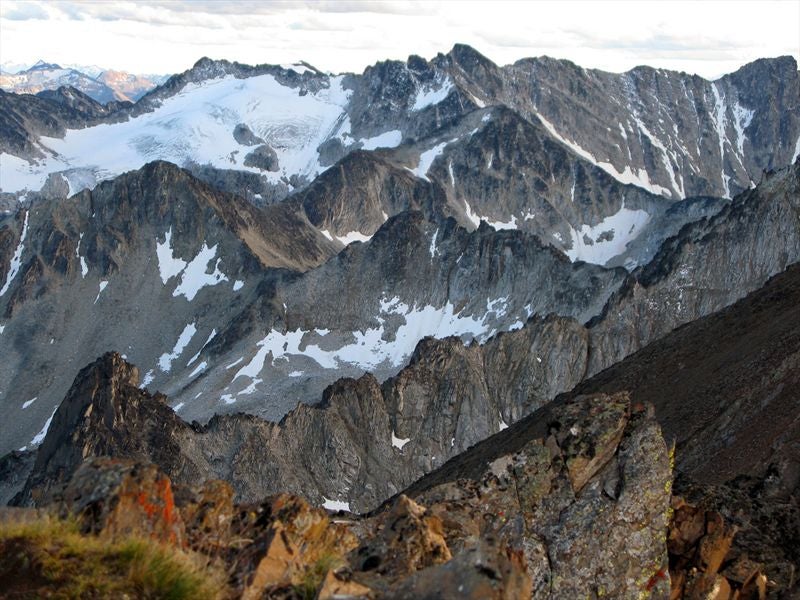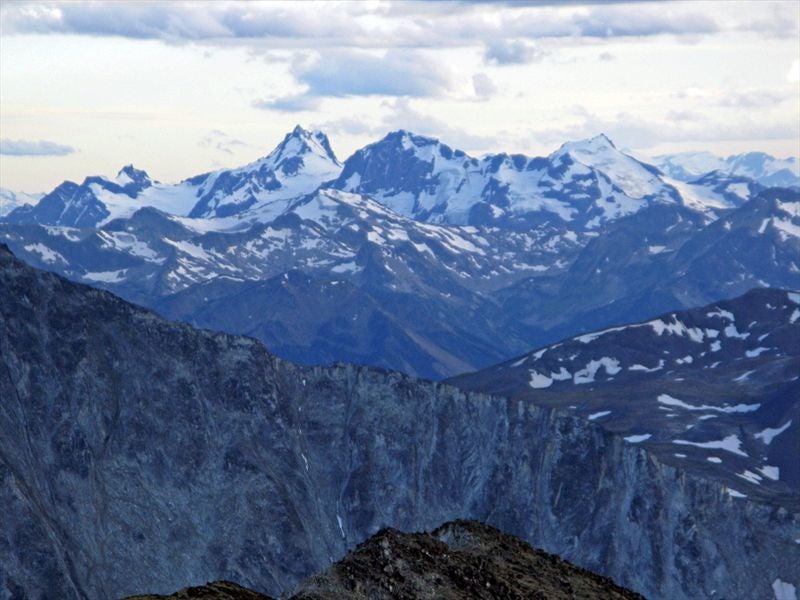 As the age old question goes: "Does it get any better than this?" Well, yes it did! The trip downhill was exhilarating. That scree that had been our enemy on the uphill jaunt befriended us on the descent, as we rode the rock down, skiing and sliding effortlessly. The ever fading light guided us back to the lake, where I retrieved the beer and we took in the sunset. The wind now blasted us with occasional gusts of over 60 km/hour. I remember thinking at the time that this was an evening I'd never forget.
We retired, in darkness, about an hour later. Doug and Brendon were using his sturdy two man tent, while nearby I had set up a bivouac shelter Doug had generously loaned me. Also thanks to Doug, I had an exceptionally warm sleeping bag, so I knew at least I'd be comfortable. Little did I know that warmth would be the least of my concerns.
Well, it was a good thing we'd taken great pains to stake everything down, even using some rocks to help, because the tempest that followed that night was something to behold! I enjoyed a clear and starry night, but the winds that buffeted camp all night  long had the tie down lines of my shelter buzzing and vibrating with every burst. The ever present turbulence roared like an approaching freight train at times! In order to make sure I stayed put, I laid out with my arms forward so I could get a grip on the base of the main support pole. Despite those efforts, the wind seemed to lift me right off the ground several times! With the racket of flapping tent walls, even Doug and Bendon didn't sleep all that well, but meanwhile, I witnessed the forces of nature intimately! Yeah, that's right, I may not be entirely sane, so what about it? Eventually, my eyes closed long enough to pass for what you could call slumber, and the next thing I knew, it was completely silent. The winds had stopped, and in the eastern skies, light was breaking on the horizon. Sunrise had arrived!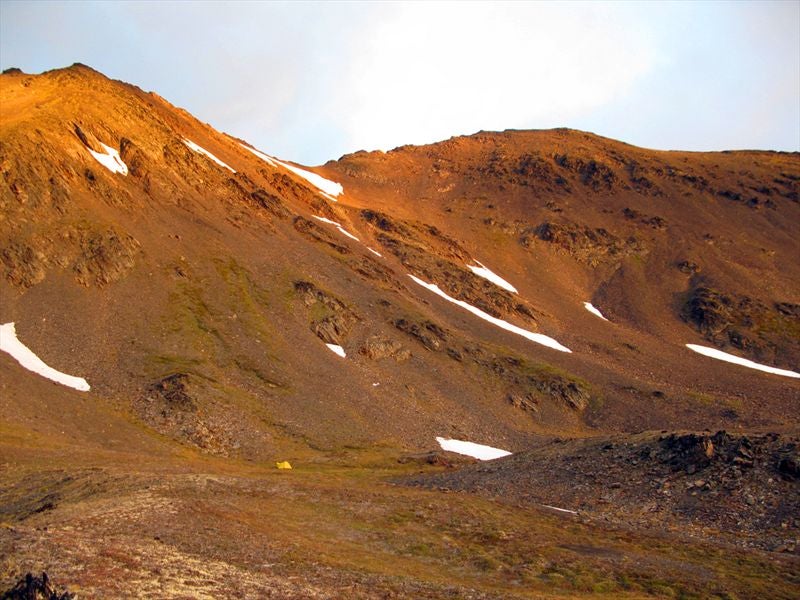 The morning dawned clearly with, shockingly, more wind, and yes I do say that with a touch of sarcasm! Having little inclination to do more battling with the elements, I headed out to get some pictures while the guys continued sleeping. The ever changing light I experienced treated me to some of the most phenomenal photo opportunities I've ever had! I simply found a place to savour it all, in between moments of dozing off. Here's an idea of how it all unfolded…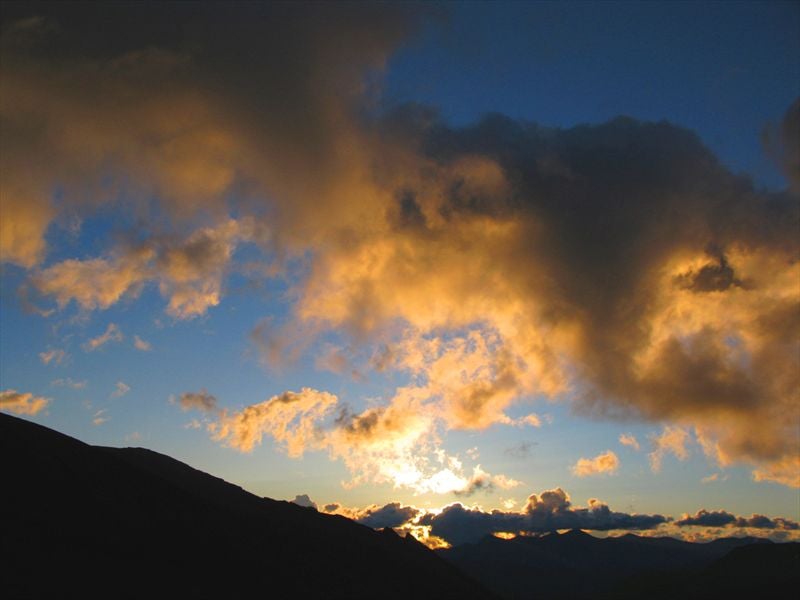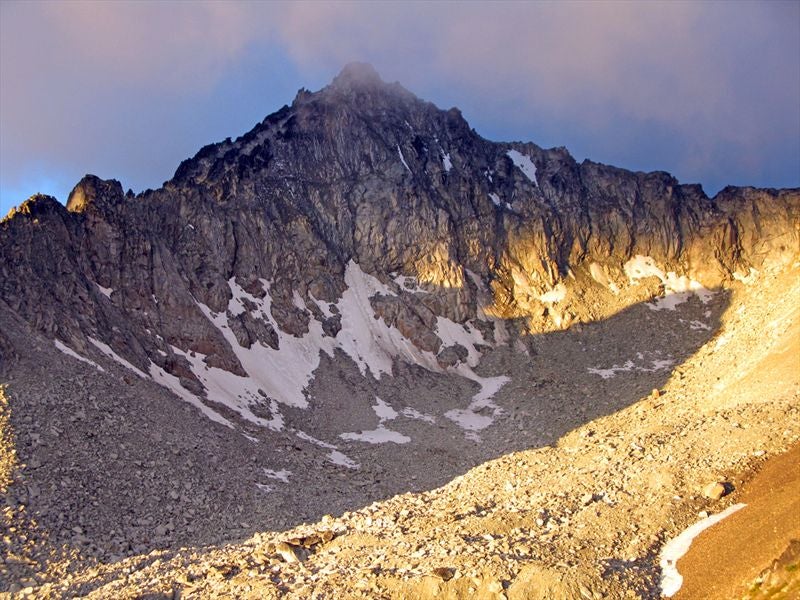 An hour later saw me back at camp, inspecting my borrowed shelter. Luckily, it had survived with only a minor tear, and was otherwise unscathed. Doug and Brendon emerged from their tent soon after, half surprised to find that I hadn't been blown into the the next valley! We took our time stowing our gear and then enjoyed a laggardly breakfast. The wind was already a memory, replaced by the heat of the rising sun. The coffee Doug made for us was well appreciated, made better still by our surroundings.
Originally, we had mused about climbing Linus Peak in the morning after breaking camp, but none of us had the will to tough that out, with no regrets. Instead, we made time to enjoy some more photography and wander about the tarns on the alpine plateau. Maybe that was for the best, as we knew that there was a long drive home ahead of us, and we would be leaving just as the long weekend was beginning. Several hours later, we arrived at the truck and enjoyed more sandwiches and beer before taking to the roads once again.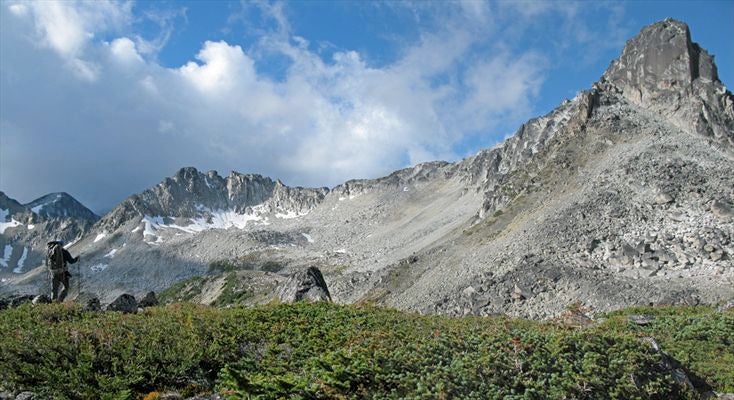 Our timing had been propitious, as evidenced by the rains that fell on the highway, as far north as Gott Creek, and all the way home to North Vancouver. You know, it always strikes me that memories made on the heights are among the best in life. In a world where the winds of change are the only constant, mountains offer us the illusion of everlasting beauty, and that's why we return time and again. I'll always remember the Downton Creek Valley, and really, the only surprise is that we've never returned. That's something I look forward to changing!